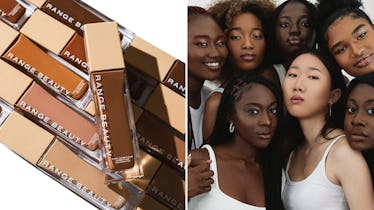 This Hydrating Foundation Is The Key To A Fresh, Dewy Complexion — & It's Kind To Sensitive Skin
Glazed donut skin on lock.
We may receive a portion of sales if you purchase a product through a link in this article.
If you have sensitive, acne-prone, or reactive skin, you might shy away from trying new skin-care and makeup products — one of life's greatest pleasures, as far as us beauty lovers are concerned. If that dilemma sounds familiar to you, add Range Beauty to your list of go-to brands. The Black-owned brand specializes in creating formulas that are kind to the most sensitive and reactive skin types, without compromising important factors like performance, longevity, beautiful finishes, and a generous shade range, so you can indulge in some beauty therapy without paying for it in breakouts and rashes later on. True Intentions Hydrating Foundation, Range Beauty's award-winning foundation, is a great place to familiarize yourself with the brand. More about that below.
Fast Facts:
Price: $28
Available Shades: 21
Finish: Dewy
Coverage: Light-to-Medium
Key Ingredients: Calendula, Chamomile, Green Tea, Kaolin
Dermatologist-Approved Beauty For Sensitive Skin Types — & *All* Skin Tones
To understand Range Beauty, you first need to understand its founder, Alicia Scott. Since childhood, Scott has contended with ultra-sensitive skin, eczema, and cystic acne (in her bio, she recounts a particularly memorable experience breaking out in hives after dousing herself in her grandmother's fragranced lotion). She set out to create a makeup line for fellow sensitive skin types that not only prevents flare-ups from occurring, but includes dermatologist-approved ingredients that work to actively soothe reactive skin — mostly of the botanical variety, like green tea, chamomile, and calendula. To take it one step further, every Range Beauty product is aligned with the National Eczema Association's guidelines.
Range Beauty is equally dedicated to representation as they are formulating gentle, high-quality products. Their base products cater to a wide range of skin tones, especially deeper skin tones that have been traditionally under-represented in the beauty space (what the brand dubs "The Forgotten Shades"). In keeping with that ethos, Range Beauty participates in the non-profit 15 Percent Pledge, which calls on major retailers to dedicate at least fifteen percent of their shelf space to Black-owned brands.
A Deeper Dive Into True Intentions Hydrating Foundation
As the name suggests, True Intentions Hydrating Foundation is formulated to celebrate your skin's true tone and texture, not to mask it. With sheer but buildable coverage, it'll help even out your skin tone, softly blur textural inconsistencies, and impart a dewy finish, all while keeping your skin looking like real skin. Reviewers also rave about the weightless, hydrating formula that feels breathable, not itchy or heavy — a major bonus for sensitive and acne-prone skin.
As far as the formula goes, you'll find a few ingredients geared specifically toward reactive skin types. Calendula and chamomile work to calm inflammation associated with sensitivity or breakouts, bolstered by linden flower's anti-inflammatory, anti-microbial, and antioxidant properties. Green tea leaf extract is another botanical powerhouse with all kinds of skin benefits, from helping to clear up acne to reducing unwanted hyperpigmentation and calming redness. Acneic skin types will also appreciate the addition of kaolin, a type of clay that absorbs bacteria, sebum, and other impurities that clog pores, making this the rare foundation you can apply over active breakouts without fear of exacerbating them. There's even St. John's wort, whose recorded use for its medicinal properties dates back to ancient Greece; applied topically, the plant can soothe rashes, irritation, and eczema.
What Reviewers Are Saying
Range Beauty customers are in love with this weightless, good-for-skin foundation, awarding it a 4.48-star rating overall on the site. Here's what people are saying about it.
"Can we just take a moment to appreciate that this brand actually created makeup for us sensitive girls!? I was already happy enough to find a foundation that doesn't irritate my eczema and acne, I love calendula on its own so that was a major green flag for me, but I also found my perfect shade match. Are you kidding me!? This brand needs to be all over the press, in all the major retailers, and definitely needs to be at the top of your makeup list. Thank you for making this for my skin and seeing that we need love too!"
"This was a perfect color match to my pale skin! It is a lightweight buildable foundation. It feels like virtually nothing while giving me even skin tone."
"I love how smooth this goes on and since I didn't want a heavy foundation it's a perfect light coverage. The hydration is legit and doesn't flake at all as the day goes on."
"My complexion varies in the summer so finding a match so true to my natural glow was such a relief. Accessibility to true ranges definitely is worth the investment. The foundation itself is smooth like butter. I love the product"
"I sampled a few foundations from various places for my combination, acne-prone skin. Range was where I landed, and I've been incredibly pleased. So easy to use for a newbie like me, incredibly natural looking, and most of all doesn't damage or breakout my sensitive skin!"
This article was originally published on