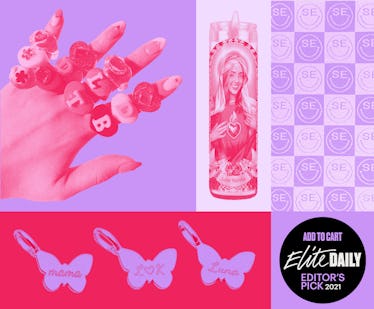 Matching Bracelets Are Sweet, But These Personalized BFF Gifts Are Sweeter
Alexa, play "True Friend" by Hannah Montana.
Bestie, I'm afraid to tell you this, but you've got to get more creative than matching bracelets when thinking of a gift for your best friend. They're cute and timeless, sure, but think about it. Your best friend deserves the world, or at least a step above braided yarn, right? With millions of generic gift options out there, a personalized gift for your BFF says, "You are so special to me, even though I wanna strangle you sometimes." And if that's not the energy you're trying to bring to your friendship, you're doing it wrong.
After such a difficult year, maybe you're looking for something your best friend can wear to remind them how much you love them. Maybe you're on the hunt for something they can hang up to let everyone know you — and you alone — are their best best friend. Maybe you just want to send them a potato with their face on it? IDK, I'm not in your friendship. I do know that your best friend loves you already, but they'll love you even more once they open up one of these personalized BFF gifts.
Read on for the customizable gifts that'll show the person in your life who knows you better than anyone else that you know them just as well.
We only include products that have been independently selected by Elite Daily's editorial team. However, we may receive a portion of sales if you purchase a product through a link in this article.
You could run to Target and grab your best friend another half-heart necklace... or you could think bigger. A small locket with a secret inside joke written inside, a handwriting bracelet, or an engraved charm are all elevated ways to memorialize your friendship. If you and your BFF aren't the mushy type, a custom embroidered sweatshirt or a chunky, funky initial ring might be more up your alley. Either way, you may just want to budget for two of whatever you pick. These wearable options are so cute, you might regret not getting one for yourself.
Whether you live in a shoebox apartment with your best friend or you two are currently miles apart, a little bit of thoughtful decor not only spruces up a space, but it also provides you and your bestie with a stunning reminder of how bomb your friendship is. You don't have to be an artist yourself to ship something special, and these options are infinitely cooler than a poster-board photo collage. Below, you'll find bright, kitschy options like a lime green blanket or a neon sign, as well as sleek, futuristic picks like a custom song plaque or a sound wave wall hanging.
There are some best friends out there who can roast each other relentlessly and still love each other more than most friends do. These hilarious gifts might as well inject that exact energy right into your BFF's veins. Take one of the many rough pictures you've screengrabbed of each other on Snapchat and stick it on a tropical shirt, a pillow, some toilet paper — hell, even a potato. Spanning from funny to "LMAO WTF," the gift options below will ensure your best friend says they hate you (in the most loving way) the minute they open the box.
I hope you're ready to cry, because truthfully, I teared up multiple times just thinking about giving these gifts to my best friend. You can take the idea of a sweet video message and transform it into a collaborative, physical montage of messages from your BFF's loved ones. You can choose sand from your bestie's favorite place in the world and stick it in a gorgeous necklace for their birthday. Speaking of birthdays, if your person loves all things astrological, a comprehensive, beautifully packaged breakdown of their natal chart is the way to go. Stick some tissues in the box while you're wrapping these gifts — both of you are gonna need 'em.