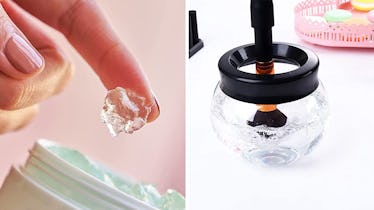 If You Want To Look Good Without Spending Much, You'll Wish You Knew About These 50 Weird But Genius Things Sooner
A gadget that rinses your makeup brushes for you, an affordable electric toothbrush — it's all here.
We may receive a portion of sales if you purchase a product through a link in this article.
You don't have to blow your monthly budget in order to look even better than you already do. While expensive makeup and skincare may seem like must-haves when it comes to polishing your appearance, the truth is that the same effect can be achieved using cheaper items — you just have to know which beauty products are worth the money.
Luckily for both of us, I've put together this list of weird (but genius) things that can help you look good without spending too much. And since each item you'll find below costs $40 or less, you can easily pick up multiple products without ruining your budget. So what are you waiting for? That ring light isn't going to buy itself, you know.