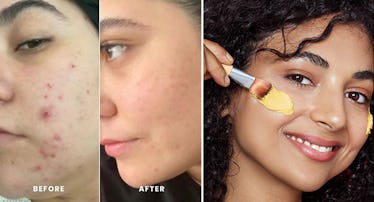 Meet The Multi-tasking Mask That Targets Sun Damage, Breakouts, & Hyperpigmentation
We only recommend products we love and that we think you will, too. We may receive a portion of sales from products purchased from this article, which was written by our Commerce team.
If you're looking for something to brighten your complexion and help with skin concerns like unwanted hyperpigmentation and acne scars, allow us to introduce you to the viral Gleamin Vitamin C Clay Mask. Made with a base of pure kaolin clay sourced from Australia, this mask aims to soak up excess oil and promote a clearer, more even complexion thanks to antioxidant-rich ingredients like caviar lime, Kakadu plum, and vitamin C. But the best part? Right now, the mask can be snagged for 20% off with the code ELITE20, meaning you can try it out for a reduced price or stock up if it's already a part of your holy grail skin care routine.
Fast Facts
Price: $39.99 (or subscribe and save for $33.99)
Size: 21 ounces
Best For: Dull, sun-damaged, or uneven skin
Cruelty-Free: Yes
Gleamin is an Aussie-founded brand that centers its ingredients around Australian plants and superfoods. The brand mentions that the harsh climate in the Australian outback causes plants (like Kakadu plum, a key ingredient in the clay mask) to develop a strong antioxidant profile, which can help ward off free radicals. Gleamin finds pleasure in ethically sourcing its vegan and hypoallergenic ingredients while avoiding potential irritants like parabens, sulfates, phthalates, gluten, and alcohol (you can read more about the ingredients Gleamin uses here).
The Science Behind The Mask
So, what makes the Gleamin Vitamin C Clay Mask so effective? First up, this mask is made with 100% pure Australian white clay to soak up excess oil — something that can (immediately) diminish shine and (over time) help clear up blackheads. Additionally, it contains turmeric, which, according to a 2016 study, reduces inflammation in the skin, and can lead to a more even-looking complexion. To further even out the skin's tone and texture is one of the mask's star ingredients, vitamin C, which has been shown to help promote a brighter complexion, fade post-inflammatory hyperpigmentation, and ward off free radicals with its antioxidant benefits.
Clay masks have a reputation for leaving your skin feeling tight and dry, but this mask has aloe vera, castor oil, and almond oil inside to balance out the clay's purifying effects. And in true Aussie beauty style, Gleamin's formula contains Australian ingredients like caviar lime, which contains brightening AHAs and vitamin C, and Kakadu plum, which, also being naturally rich in vitamin C, delivers similar brightening and protecting benefits to your skin.
How To Use It
After you're done cleansing your skin, apply this clay mask with your fingers or the included applicator brush. Gleamin recommends allowing the mask to dry for a full 10 minutes before washing it off completely with warm water. After that's done, you can continue with your typical skin care routine. You can use this mask whenever it fits into your schedule best, whether that's during your morning coffee, or as a part of your wind-down bedtime routine.
As with most masks, you'll want to apply the Gleamin Vitamin C Clay Mask to your entire face. That said, if you have combination skin and want to avoid a clay mask on your drier areas, you can apply this mask in your T-zone only or use it as a spot treatment wherever you tend to get oily.
The Results
Here's what users have to say about Gleamin's Vitamin C Clay Mask so far:
"I was recently gifted the Vitamin C Clay Mask free from Gleamin and it works amazing. It not only helped my skin look and feel great but it also helped with my acne. I love that it came with a little applicator tool to apply." — Jamie
"I'm on my second pot and my skin is at the best it's been in a long time. My spots are fading, stubborn hyperpigmentation on my forehead is dissolving and my skin is glowing. I also have less breakouts and recently noticed my pores are shrinking. I'm a confirmed repeat buyer." — Bee B.
"I have extremely oil, acne prone, hormonal skin. This has been the only product that has really made a difference in drying up and reducing my overall acne. I use it every other day and I saw the impact after the first 2 uses. 100% recommend! I can never be without this product again! Also, I got some of the mask on my white towels, but it seemed to wash out without any stains, which is a relief." — Kelsey M.
This article was originally published on