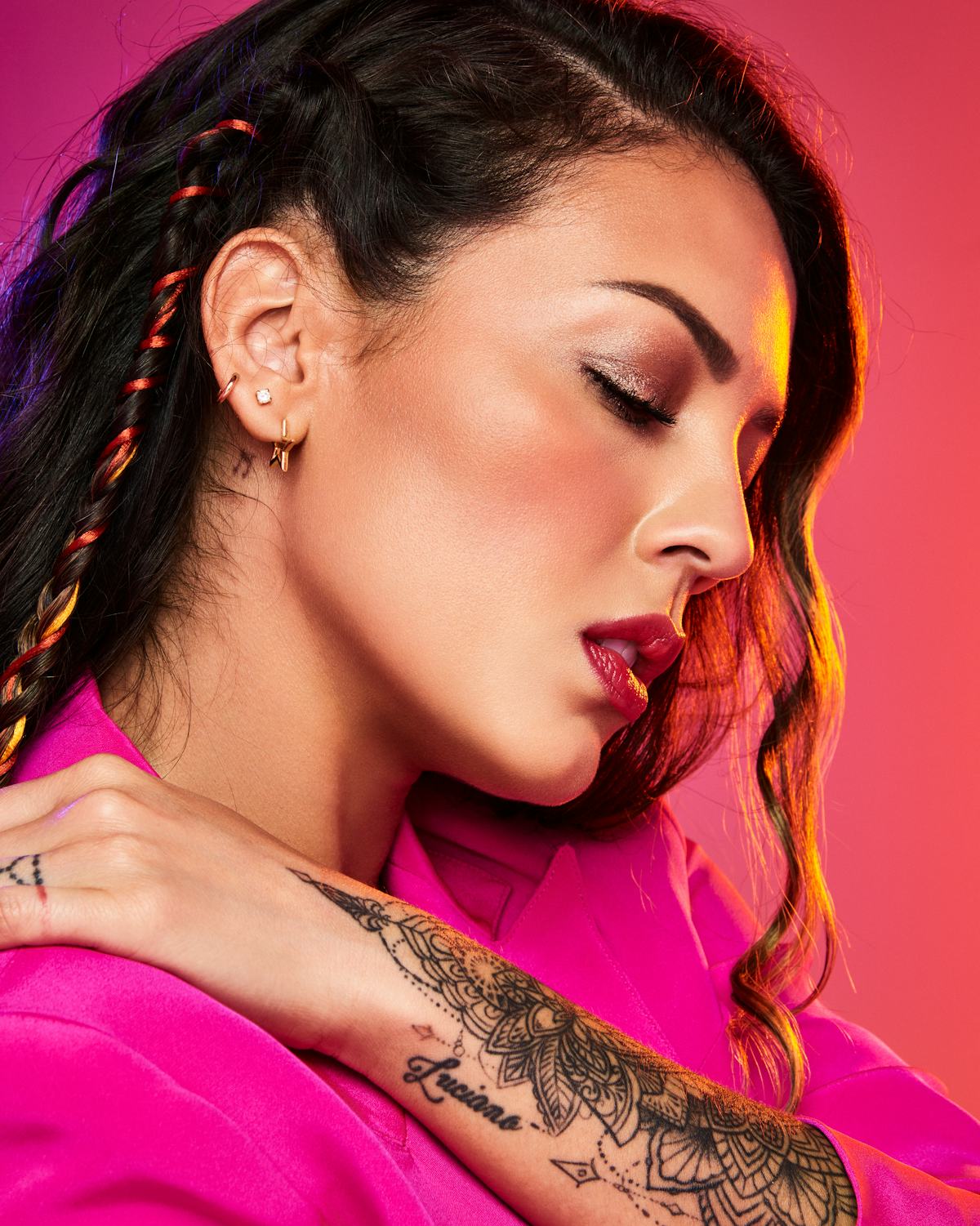 Get Excited For e.l.f.'s New Electric Mood Makeup Launch
Shop the limited-edition collection designed by the music artists from Beautyscape 2020.
Ready to reacquaint yourself with your inner extrovert after a long year of staring at screens and losing the ability to make small talk? You're not alone. Fortunately, e.l.f. Cosmetics' new Electric Mood collection is here to help out in multiple departments, providing fuel for creativity, confidence, and conversation.
Inspired by self-expression and music, Electric Mood was created out of e.l.f.'s fifth annual Beautyscape competition. The three winners — Karol Rodriguez from New York City, Michael Brooks from London, and Emily Anne Carden from Colorado — entered the contest by posting a music-inspired beauty look on Instagram. Once they were selected, they got to collaborate with Universal Music Group for Brands artists Tove Lo, Tiana Major9, and Pitizion (respectively) on designing a new line of products catered to each music artist's personal sound and style. Beautyscape 2020 — The Remix also included a $10,000 cash prize for winners, a mentoring partnership with Girls Inc., and of course, some killer new products.
Without further ado, here's what you'll find in the limited-edition collection, which is out now. Swedish sing-songwriter Tove Lo combined the prettiness of glitter with the grit of rock 'n' roll, designing Disco Glitz Brow & Eye Kit, a universal eye-and-body glitter paste; Hydrating Balm, which leaves a sheer wash of color on lips; and Glassy Skin Balm, a translucent formula that gives all skin tones that coveted glass-skin effect.
For Tiana Major9, vibrant color went graphic. Here's where you'll find eye-catching shadows in the Feeling Lucky Eyeshadow Palette (with 18 matte, shimmer, and metallic shades). There's high-shine lip gloss with the Lip Duo (which also features a matching pencil). And to get that dewy, hydrated glow, try the Illuminating Elixir, a 2-in-1 face concentrate made with hyaluronic acid and jojoba oil.
And finally, Pitizion's aesthetic and sound translate to products that are all about sun-kissed skin and bold lips. There's the Shadow Crayon Duo — a pair of creamy, blendable shadows that are smudge-proof and long-wearing (perfect for a day in the sun when you don't want your look to melt off). On the face, try the De La Soul Cream Face Quad, a collection of cream blush, bronzer, and highlighter that gives your moneymaker an enviable glow. The Sheer Stick lipstick has a cherry tone with a texture that's more like a balm. Finish it off with Big Mood Mascara — a component of all three artists' collections — and apply it all with the limited-edition Electric Mood Brush & Sponge Set, which was designed specifically with these products in mind.
With such a striking variety of products to choose from, it's safe to say the Electric Mood collection has something for everybody and every mood. It's just what you need to get back out there with fearlessness and style.
All images: Courtesy of e.l.f. Cosmetics