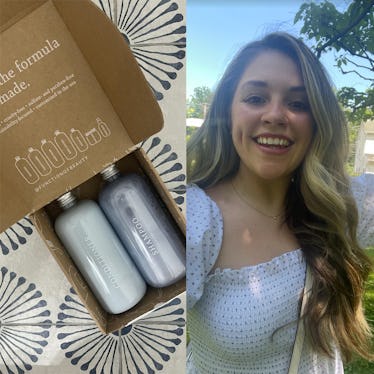 Does Function Of Beauty's Custom Hair Care Live Up To The Hype? I Tried It Twice (Just To Be Sure)
We only recommend products we love and that we think you will, too. We may receive a portion of sales from products purchased from this article, which was written by our Branded team.
Let me get one thing out of the way: I will purchase any product with my name on it, and I have been susceptible to doing so since I bought a keychain with my moniker painted on a grain of rice during a middle school field trip. So, when I first saw Function of Beauty's colorful, customized shampoo and conditioner bottles all over my newsfeed, I was immediately prepared to whip out my credit card.
If you have yet to discover Function of Beauty, here's a quick rundown: It's a company that allows you to create customized hair care products (all cruelty-, paraben-, and sulfate-free, of course) that cater to your individual hair goals. This is achieved through an interactive quiz, which, after assessing your needs, creates an individualized formula featuring targeted, high-performing ingredients such as shine-boosting sweet almond extract, strengthening organic tamanu oil, moisturizing rose extract, and protective and frizz-fighting argan oil.
You also have the opportunity to choose your dye and fragrance options, and put your name on the side of the bottle. (Although, there's no rule that says you HAVE to put your name. Feel free to cosplay or get weird here. No one is stopping you.)
I actually first started using Function of Beauty over two years ago, when I was recovering from a harsh color correction and a brutally botched haircut.
My usually thick hair was left brittle and treatment-damaged, and although I knew it was time to swap to something gentle, I was afraid that would leave me with very few options for the kinds of products I could use. Since there didn't really seem to be a shampoo that could effectively fit my needs without further damaging my tresses, I gave Function of Beauty a chance.
At the time, I chose lengthen, strengthen, anti-frizz, shine, and deep condition as my hair goals, and after about a year, my hair was in much healthier shape than it had been in a long time. I canceled my subscription (more on that later), and returned to using off-the-shelf products.
Fast forward to last month. I was in the middle of a move and preparing to purge my beauty products to bring less clutter into a new space, when I realized that I was using at least four different kinds of shampoos and conditioners — all aimed at solving different problems I experience with my hair. I decided it was probably time to give Function of Beauty another chance.
When I logged back into my account, I was given the option to reorder my previous formula. Because I no longer wish to lengthen or strengthen my hair (I'm at the point where I think I could tow a U-Haul with my strands. They've simply become too powerful), I decided to start from scratch and retake the hair quiz.
The four-step quiz kicks off by presenting you with a number of options to describe your natural hair type, structure, and scalp moisture. From there, you get the chance to choose up to five hair goals. This time around, I went with anti-frizz, hydrate, soothe scalp, shine, and curl definition. In this step, you can also choose to remove silicone from your formula. Step three is my personal favorite; it gives you the opportunity to put a name on your bottle, choose a fragrance and fragrance strength (I went with floret, a new scent composed of fresh, floral notes and earthy sandalwood), and dye colors for your shampoo and conditioner. If you'd like to go fragrance and dye-free, that's an option, too. In the fourth and final step, Function of Beauty confirms that your "1-in-54-trillion" formula has been created, and suggests some other products to incorporate into your hair regimen, such as hair serums and masks. This time, I stuck with just shampoo and conditioner.
For a totally custom product, my shampoo and conditioner came pretty quickly; I received a package about three days after placing my order. My shampoo and conditioner arrived with a regimen card explaining how to use each product, and if I ever happen to misplace it, I can download it again on the Function of Beauty website. I also received pumps for both bottles and an adorable sheet of stickers that I immediately used to decorate my shampoo and conditioner.
I've only washed my hair once so far (I have very thick hair, so I try to squeeze a week in between washes), but I could definitely already see some progress when it came to my hair goals. I shampooed, conditioned, and air dried on an extremely humid day, so I really got to put the anti-frizz capability to the test, and was pleasantly surprised that my usual post-shower poofiness was noticeably decreased, even if only by a small amount. Perhaps the progress I was most impressed with was curl definition. My natural texture is mostly tight little waves, and it was nice to see them look more defined as my hair air dried without the assistance of any additional styling products. Four days later, I've yet to see any dried flakes across my scalp, so I'm also pretty pleased about that. It's definitely not an overnight miracle, but I'm excited to continue washing and see how my hair improves with this new formula.
So what will a hair transformation cost you? Function of Beauty's shampoo and conditioner sets are $39.99 for a set of eight ounce bottles, or $49.99 for a set of 16 ounce bottles. You can also save yourself the $7.99 shipping fee if you sign up for a subscription that will automatically refill your order in two months. If that's a little too soon, you can always log into your account and adjust the timing, update your formula, or cancel your subscription.
In my opinion, as an "I'm not like other girls!" kind of girl, it's a pretty solid shopping experience for anyone who feels like their needs aren't being met by regular hair care products.