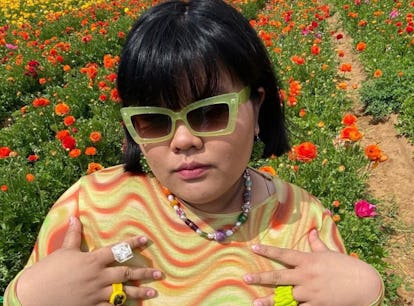 5 Gen Z Fashion TikTokers Share How To Find Your ~Personal Style~
Get ready for window shopping. Loooooots of window shopping.
Getting dressed is one of the most annoying tasks out there, and that's coming from someone who loves clothes. It's so easy to dream up the most daring outfit — the ones you've pinned on Pinterest a thousand times — only to toss everything in your closet on the floor, sigh, and go with jeans and a T-shirt instead. No, there's nothing wrong with a combo as classic and timeless as denim and a tee. But sometimes, breaking out of that box to find an aesthetic that feels comfortable and original to you is more difficult than you think it'll be, regardless of how easy so many fashion TikTokers make finding your personal style seem.
Even the term "personal style" can be vague and misleading, so let's break it down to the very basics. Your personal style is less dependent on what's popular and more in line with how certain items make you feel. Thus, dressing for your personal style prioritizes the items, vibes, aesthetics, colors, and more that make you feel confident when you wear them, like the best, most powerful version of yourself walking down the street. As you start approaching your wardrobe this way, you might find "your style" checks a few different boxes at first. And that's OK. If you spend time experimenting with new silhouettes and colors, doing your own research, and avoid taking yourself too seriously, eventually, you'll notice a few patterns start to emerge. Even better, you'll have begun curating a wardrobe that feels authentic to you.
Granted, all of that sounds great, but it's easier said than done. If you're not sure where to start, Elite Daily tapped five fashion TikTokers whose style is unmatched for their best tips to find your personal style.