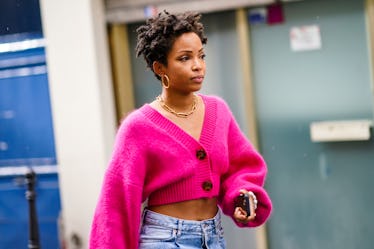 The 12 Best Sweaters For Petites
Cute, cozy pieces that suit your height just right.
Edward Berthelot/Getty Images Entertainment/Getty Images
We may receive a portion of sales if you purchase a product through a link in this article.
Whether you're choosing a chunky pullover or a cropped cardigan, the best sweaters for petites do exactly what any item of clothing should in order to earn a spot in your wardrobe: They fit. Since sweaters aren't easily tailored — and since petite options aren't common to every brand — when it comes to finding the best sweaters for petites, priority number one is to know your measurements. Knowledge is power, and having access to your measurements will help you determine if the sweater in question is a good fit, regardless of the style. And while some styles may be more petite-friendly than others, don't be afraid to break some rules — the most important thing is how the sweater makes you feel.
How To Shop For Sweaters For Petites
Understand Your Size
Did you know that the term "petite" refers to shorter frames, aka folks 5-foot-4 and under? All of the straight-size options listed here are available in X-Small, or even XX-Small sizes, but just because you're petite doesn't necessarily mean that a smaller size will work for you. Some of the options below are specifically available in petite sizes, which means they are designed to accommodate people with shorter frames. Petite sweaters have features like higher arm holes, shorter sleeves, and narrower shoulders.
That said, even if you're taller than 5-foot-4, a petite sweater may be a good option for you if you have a shorter torso or shorter arms — it's possible to be petite on the top half of your body and not the bottom, and vice versa.
Don't be afraid to size up or down to accommodate the unique requirements of your body; maybe an X-Small or a Small size is too fitted for you, in which case you can check your measurements against the sweater in question to see if a larger size is more suitable, or you can size down in an oversized sweater to avoid an overwhelming fit.
Choose Petite-Friendly Styles
This is all about finding a cut and style that complements your shorter frame and suits your aesthetic. Sweaters in more fitted styles won't lose you in excess fabric; think classic crewneck pullovers or a slim button-down cardigans. As an added bonus, these are timeless styles you'll reach for again and again. A loose-fitting or oversized sweater may feel more like a dress on someone who's very petite, so if that's not the look you're going for, simply keep an eye on proportions. A chunky knit sweater in an oversized silhouette can work on a petite frame if the length is cropped, and details like fitted cuffs and a cinched hemline can add definition to an otherwise oversized look. Or consider an adjustable wrap sweater, which can help prevent that sensation of swimming in your sweater.
From heirloom-worthy cashmere pullovers to trendy V-neck knit, scroll on to shop 12 of the best sweaters for petites.