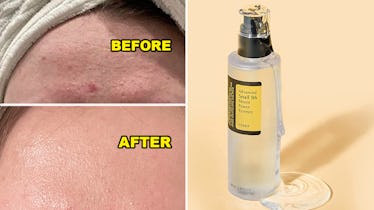 The Best Snail Mucin Products
All these years later, the K-beauty ingredient still holds up.
We may receive a portion of sales if you purchase a product through a link in this article.
Snail mucin has long been used in Korean skin care, and while more research into the efficacy of the ingredient is still needed, plenty of people swear by it for transforming their skin. When it comes to finding the best snail mucin products, you'll come across a mix of rich creams, lighter lotions, essences, serums, and masks that list snail secretion filtrate as the primary ingredient. (The main component of snail mucin, chondroitin sulfate, is the same regardless of how the snail secretion is collected, in case you were wondering.) Additionally, depending on your skin concerns, you may prefer a snail mucin product that contains additional actives like hydrating hyaluronic acid, collagen-boosting peptides, or skin-calming centella asiatica extract. Because of its soothing abilities, snail mucin is generally thought to be a particularly great option for sensitive and acne-prone skin types (though as with any new ingredient, you'll want to test the product out on a small area first to confirm you're not allergic).
While popular in South Korea, snail mucin products aren't as ubiquitous over here, and the most popular snail mucin products really come from two key brands: COSRX and Mizon. Lately, Peach Slices — the accessible and rapidly expanding beauty brand founded by Peach & Lily's Alicia Yoon — has joined the fold, too. So, for this article's purposes, we'll be focusing on the products made by these three companies.
Obviously, because snail mucin is collected from actual snails, ensuring that the product you choose is cruelty-free may be one of your top priorities. Animal testing is now illegal in South Korea, which means that many Korean beauty products are cruelty-free. However, because some of these brands are sold in China where animal testing is required, it's not always entirely clear which brands are truly cruelty-free. That said, the products featured ahead have been confirmed to be cruelty-free by either direct or third-party sources.
Shop The Best Snail Mucin Products
In a hurry? Here are the best snail mucin products:
The Best Snail Mucin Products From COSRX
1. Best Face Cream
COSRX is completely transparent about how the snail mucin for its products is collected. For one thing, they use a dark and quiet environment that nocturnal creatures like snails prefer. According to The Klog, a Korean skin care resoruce, COSRX doesn't put any external stress on the snails, leaving them to roam freely over mesh nets for 30 minutes at a time before placing the snails back in their homes and collecting the mucin. The brand's best-selling Advanced Snail 92 All In One Cream is a gel-cream moisturizer that uses 92% snail mucin to hydrate skin and calm irritation. There's also hyaluronic acid and panthenol in here for more hydrating benefits, as well as allantoin, which has both moisturizing and soothing properties. Though multiple Amazon reviewers note that the "sticky" texture takes some getting used to, the cream has more than 10,000 five-star Amazon ratings and a devoted following among skin care fanatics, landing it firmly in the "cult favorite" department.
Key Ingredients: Snail Secretion Filtrate, Hyaluronic Acid, Allantoin, Panthenol Size: 3.5 oz. Fragrance-Free: Yes
Relevant Review: "As someone who has dealt with redness and extremely dry skin for years, I've struggled finding products that work well. After using this for a month, I have received so many compliments on my skin looking healthy/glowy. Much of my former redness has faded or gone away entirely! I regret not getting this product sooner as it has easily become one of my holy grail items."
2. Best Eye Cream
Snail mucin is certainly the hero ingredient in this COSRX Advanced Snail Peptide Eye Cream, but it's packed with a dozen more multi-taskers to target multiple skin concerns without causing any irritation, too. Glycerin, sunflower seed oil, and hyaluronic acid help to moisturize dry skin wherever you apply this cream — whether under your eyes or along your brow bone — while niacinamide and allantoin offer a brightening and soothing punch. To further stimulate collagen production and plump up the delicate under-eye skin, COSRX has included several peptides in the formula, including copper tripeptide-1, which has been shown to be particularly helpful with inducing collagen production and reducing the breakdown of collagen.
Key Ingredients: Snail Secretion Filtrate, Glycerin, Sunflower Seed Oil, Niacinamide, Allantoin, Vitamin E, Panthenol, Hyaluronic Acid, Peptides Size: 0.8 oz. Fragrance-Free: Yes
Relevant Review: "Easy on the skin with no fragrances, which I've found can cause irritation. Has been helpful for problem areas and dry patches to really lock in the moisture."
3. Best Essence
"A K-beauty workhorse, the COSRX Snail Mucin Essence makes a visible difference in my skin," says Elite Daily editor Scarlett James. "It improves texture, tone, and hydration yet feels totally weightless, and sinks in quickly without leaving a tacky residue. (Read: Good under makeup.) There are relatively few ingredients, which makes it not only great for sensitive skin but also versatile and easy to incorporate into a routine. I use it nightly before applying my heavier creams or sometimes as a buffer before Tretinoin — you can even apply it on razor burn or after waxing to calm and hydrate without clogging pores." James isn't the only fan of this essence, either: It's one of the brand's most popular products, and has nearly 20,000 five-star ratings on Amazon alone.
Key Ingredients: Snail Secretion Filtrate, Hyaluronic Acid, Allantoin, Panthenol Size: 3.4 oz. Fragrance-Free: Yes
Relevant Review: "I have eczema prone skin and I'm super sensitive to what I put on my face. This stuff did not irritate it at all, and my face really does have a natural glow and it's so smooth and soft."
The Best Snail Mucin Products From Mizon
4. Best Serum
If you prefer to incorporate snail mucin into your routine via a serum, Mizon's Snail Repair Intensive Ampoule gives you a concentrated formula that focuses on improving your skin's elasticity and hydration levels. In here, snail mucin is combined with hyaluronic acid, glycerin, and panthenol for more moisture, while peptides help to stimulate collagen production. Plus, the serum contains a combination of botanical extracts like cocoa, pomegranate, strawberry, and raspberry to provide antioxidant protection and promote a more even complexion.
Key Ingredients: Snail Secretion Filtrate, Hyaluronic Acid, Glycerin, Panthenol, Peptides Size: 1 oz. Fragrance-Free: Yes
Relevant Review: "This stuff is the one product that I can truly say has transformed my skin. It helps heal and soothe irritation and blemishes, and keeps them from coming back. I have sensitive skin and this has improved redness and made my skin glow. I've also used the cream from the same brand with the same results - I think it just depends on how you would prefer to apply the product or what other ingredients you prefer. I've tried other brands with similar ingredients and this is hands down the best."
5. Best Mask
Like a more concentrated moisturizer, Mizon's sleeping pack (aka an overnight face mask) was designed to be used as the final step of your nighttime routine. In addition to snail mucin, the thick, gel-like mask contains mushroom extract and multiple peptides to improve skin elasticity and boost collagen production. To further help plump up your skin, multiple moisturizers like glycerin, olive fruit oil, and shea butter have also been incorporated into the formula. While the mask is made without artificial fragrance, it's does contain multiple essential oils that some skin types might be sensitive to.
Key Ingredients: Snail Secretion Filtrate, Glycerin, Olive Fruit Oil, Shea Butter, Mushroom Extract, Peptides Size: 2.7 oz. Fragrance-Free: Yes
Relevant Review: "Great sleeping mask. Does an excellent job hydrating and plumping the skin. Also good for those nights when you're feeling lazy and can't be bothered layering on several products."
The Best Snail Mucin Products From Peach Slices
6. Best Moisturizer For Acne-Prone Skin
Snail mucin is considered to be a helpful ingredient for acne-prone skin types in general, but Peach Slices takes things a step further with its line of snail mucin-infused products. The brand's Snail Rescue Oil Free Moisturizer was formulated specifically to help calm redness and irritation from current breakouts, and to fade unwanted spots left behind from previous breakouts. Centella asiatica extract (aka cica), an herb used in Ayurvedic medicine, is included in the formula for its antibacterial and anti-inflammatory benefits, while strawberry extract and birch juice help promote clear, radiant skin. Peach Slices is Leaping Bunny-certified cruelty-free, and the moisturizer is also free from potential irritants like silicones, alcohol, and fragrances.
Key Ingredients: Snail Secretion Filtrate, Centella Asiatica Extract, Hyaluronic Acid, Strawberry Fruit Extract Size: 2.8 oz. Fragrance-Free: Yes
Relevant Review: "Awesome product. I have oily/acne prone skin and have tried dozens of different products. This product is light and absorbs quickly. I've been using it twice daily for a few weeks. My adult acne has decreased significantly, and I haven't had any breakouts. Highly recommend."
7. Best Toner For Acne-Prone Skin
For a post-cleanse product that helps treat acne, try the Peach Slices Snail Rescue Blemish Busting Toner. The alcohol-free toner can be used both morning and night, thanks to its gentle formula that includes 95% snail mucin and cica. Combined, both ingredients help to lock in moisture, fade unwanted signs of acne (from both past and current breakouts), and reduce redness and irritation. You can use this with the other products from Peach Slices' Snail Rescue line, or before going in with your preferred serum and moisturizer.
Key Ingredients: Snail Secretion Filtrate, Hyaluronic Acid, Centella Asiatica Extract Size: 4 oz. Fragrance-Free: Yes
Relevant Review: "After [literally] 3 days of using this, my skin has been glowing! It almost looks like my pores have gotten smaller. My redness and dryness I usually have everyday is gone and my acne has disappeared. Magic in a bottle."
8. Best Mask For Acne-Prone Skin
This Peach Slices Snail Rescue Intensive Mask can be rinsed off after 15 minutes, but you can also leave it on longer, if you'd like. The refreshing gel formula contains 95% snail mucin, cica, and strawberry extract, as well as skin-renewing licorice root extract and birch juice. You only need to use the mask two to three times weekly to see the benefits, which include clearing up blemishes and brightening your overall skin tone.
Key Ingredients: Snail Secretion Filtrate, Centella Asiatica Extract, Licorice Root Extract, Hyaluronic Acid, Strawberry Fruit Extract Size: 3.4 oz. Fragrance-Free: Yes
Relevant Review: "I usually don't do reviews, but this product deserves the hype. I've tried my hand in basically everything skincare for my sensitive, very acne prone skin. Bought this product not thinking it was going to do much, like most skincare products…but I was wrong! This is amazing! It not only helped my acne within a day, it smoothed my pores and made my face baby soft with a slight glow! If you are at your wits end trying to find a product that works for you and your acne, please try this!"