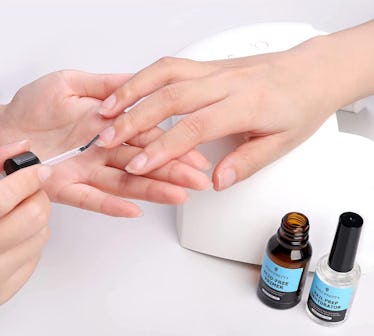 The 4 Best Primers For Acrylic Nails
Fan-favorite formulas for no-budge nails.
We may receive a portion of sales if you purchase a product through a link in this article.
The possibilities are endless when it comes to acrylic nail art, and with the right primer on hand, it's simple to apply acrylics yourself from the comfort of home. The best primers for acrylic nails create a highly adhesive base on your nail plate, without causing damage to your nails or cuticles. They are available in both acid-free and acid-based formulas, but acid formulations should only be used by professionals.
What To Consider When Shopping For The Best Primers For Acrylic Nails
Acid-Free Versus Acid-Based Primers
There are two basic primer formulations: acid-free and acidic (made with methacrylic acid). An acid-free primer is far and away the most popular choice for at-home manicures, as its gentle formula is less likely burn the nail bed or skin. Standard acid-free primers essentially act as a double-sided tape for your nails, creating a sticky surface for your acrylics without altering your nail plate. You can use it on its own or in conjunction with a dehydrator (more on that later).
Another acid-free formulation is a pH-bonding primer. This type of primer removes oil and raises the pH level of your nail, allowing for better adhesion. While pH-bonding primer is usually used in conjunction with UV gel nail polish, the specific pick I've included below is appropriate for acrylic powders as well.
Acid-based acrylic nail primers include methacrylate, which forms a series of micro-pores on the nail's surface so the acrylic can better stick to the natural plate. Best reserved for professional use, they're more likely to cause burns. That being said, all primers have the potential to significantly burn or irritate skin (especially if you have thin nails) — so proceed with caution. Be sure to follow the manufacturer's directions closely, and — if any burning should occur — immediately flush the skin and nails with soap and water for several minutes.
Do I Need To Use A Nail Dehydrator?
Dehydrators work to dissolve oil and dust on the nail to create a better base for your primer. While it's not necessary to apply a dehydrator before your primer, it's a good idea for those who have particularly oily nails or those who have problems getting their acrylics to stick. So how can you tell if you have oily nails? Look for a shiny nail bed — it's the biggest indicator that your body is naturally producing more oils around the nail area. On the other hand, if you notice your fingernails are on the rougher side, you may have a dry nail type that won't necessarily benefit from a dehydrator.
Whether you're learning the ropes of DIY manicures and stocking up on must-have tools, or are an experienced nail artist looking to incorporate a new product into your preparation routine, these are the best primers for acrylic nails available on Amazon.
Shop The Best Primers For Acrylic Nails
In a hurry? These are the best primers for acrylic nails:
1. The Overall Best Primer For Acrylic Nails
Highlights:
Gentle acid-free formula that won't burn nails or cuticles
4.7-star overall rating after 1,000+ reviews
With a gentle, acid-free formula, this acrylic nail primer from Mia Secret is a great choice for beginners and experienced nail artists alike. This primer won't burn your skin, offering some forgiveness if a small amount hits your cuticle. Suitable for both acrylic and UV gel nails, it's a versatile product that many shoppers swear by — and it has an impressive 4.7-overall rating on Amazon.
While it may be a bit pricier than the other options on this list (and it doesn't come with a dehydrator), Mia Secret's formula comes in a generous size and is worth it for those who want a primer that's easy to work with and offers excellent adhesion.
According to a reviewer: "I've been doing acrylic nails for over 30 years. This primer is the best on the market. Will not use anything else. No burning, wonderful adhesion and no lifting from this primer."
2. The Best Primer & Dehydrator Set For Acrylic Nails
Highlights:
Gentle acid-free formula that won't burn nails or cuticles
4.4-star overall rating after 6,000+ reviews
If you're looking for a primer and nail dehydrator duo, this set from Morovan is the way to go. The acid-free formula is easy on your nail plates, adding a layer of adhesion that's designed to last up to 30 days without your acrylics lifting or breaking. Meanwhile, the dehydrator will prep oily nails for better adhesion. Even if you don't initially plan on always using a dehydrator before your primer, it's nice to have the option if you find you need more help getting your acrylics to stick.
According to a reviewer: "This is a great product. I have really long acrylics and do a lot of DIYs and crafting and always hit and smash my fingers and my nails haven't lifted or broken for a month. I know there are more expensive name brand products, but I highly recommend this product and it has changed the way I do my nails."
3. The Best Primer & Dehydrator Set If You're On A Budget
Highlights:
Gentle acid-free formula that won't burn nails or cuticles
4.5-star overall rating after 2,600+ reviews
If you're sticking to a budget or just experimenting with acrylics, this primer and dehydrator set is as wallet-friendly as they come. And the low price doesn't indicate an inferior formula — the set simply includes smaller volumes — 0.33 fluid ounces for each bottle as opposed to the previous set's 1 fluid ounce each. Like the first two options, this primer is acid-free, making it perfectly suitable for at-home use.
According to a reviewer: "I'm impressed with this product. It's been several days since I filled my acrylic nails and there is absolutely no lifting. I'm very happy about that. I will definitely continue to use."
4. The Best Bonding Primer For Acrylic Nails
Highlights:
Acid-free formula that raises pH level of nail for better adhesion
4.6-star overall rating after 6,400+ reviews
Similar to a dehydrator, this pH-bonding primer removes oil from the nail before you add your acrylic powder, and also raises the pH level of your nail, which in turn results in better adhesion. The acid-free formula is ideal for those who are prone to nail lifting, as it creates a strong bond with your acrylics that lasts for weeks. While bonders are primarily used with UV gels, this product is designed to work with acrylic fills, as well. It's a great choice for those with oily nails, as well as those who prefer a single-step preparation process.
According to a reviewer: "This made my acrylic fill So much better. They stay put! I did not use primer last time and my fill lasted a week and a half. This time with this primer I'm going on 3 weeks. I smacked them accidentally really hard and was afraid to look. Not one nail lifted. I won't do a fill again without this. Excellent product."