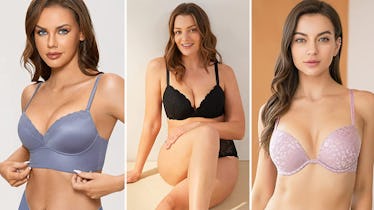 The 10 Best Padded Bras For A Little (Or A Lot) Extra Boost
From sexy lace push-up bras to T-shirt bras with a touch of padding.
Amazon
We may receive a portion of sales if you purchase a product through a link in this article.
I'm all for comfort taking center stage in my bra choices these days, but there are certain things that just can't be accomplished with an unstructured bralette. So if you're looking for lots of lift or want to make your boobs appear a few sizes larger, then you'll need to call in reinforcements: The OG padded bra. The best padded bras have anywhere from light to extra-thick padding to enhance the appearance of your bust, all while providing ample support and lift.
What To Look For In A Padded Bra
As is always the case when bra shopping, there's no such thing as a one size fits all style — and that holds true with padded bras, too. Here are a few considerations to keep in mind as you shop.
Level of Padding: When it comes to padded bras, you have two options: Those with push-up padding, and those with an even layer of light padding. Push-up bras have graduated padding, meaning that they're thicker at the base and thin out toward the top, bringing your boobs inwards and upwards to create a rounder, fuller shape that can boost the appearance of your breasts as much as one to two cup sizes. On the other hand, non-push-up padding shapes and naturally enhances cleavage for subtle lift and volume. Apart from lifting and shaping, all padding offers an extra layer of modesty by concealing nipples.
Structural Details: Underwires provide additional support and lift, but a wireless bra may be more comfortable. Adjustable straps and hook-and-eye closures ensure a snug fit, which also goes a long way in creating lift. Some bras even have convertible straps for extra customization, so you can keep straps tucked away no matter the neckline you're wearing. And don't think that a strapless bra can't deliver on volume — plentiful padding and supportive underwire can help you achieve the look, sans straps.
Whether you're after a light lift or mega volume, scroll on to shop the best padded bras, all conveniently available on Amazon.