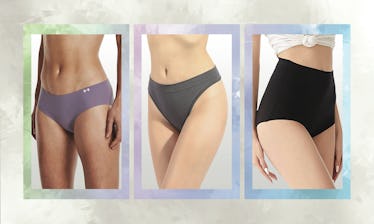 The 10 Best No-Show Underwear For Yoga Pants
Elite Daily / Amazon
We may receive a portion of sales if you purchase a product through a link in this article.
Personally, I've never been one to notice other people's panty lines under their leggings. But I am, however, pretty concerned about my own. Whether I'm at the gym or running errands, I can't help but take a peek at my backside whenever I pass by a mirror, just to be certain that my underwear is indeed invisible underneath my workout wear. Lucky for me (and for all of you), I've rounded up 11 of the best no-show underwear for yoga pants, which are seamless and made from thin, breathable materials for a barely-there look and feel. And it's not just VPL that the underwear on this list avoids — they also won't ride up or down, or bunch up uncomfortably under your leggings.
What To Look For In The Best No-Show Underwear For Yoga Pants
Cut: First, consider the style of underwear that feels best for you. Thongs are a natural pick, since they're inherently designed to remain invisible underneath your clothes. But if thongs conjure up nightmares of soul-crushing wedgies, worry not — there are plenty of full-coverage styles that remain just as invisible under even the tightest yoga pants, like cheeky hipsters, high-waisted briefs, and even boy short panties.
Seamless Construction: Regardless of the style you choose, you'll want to be sure you opt for seamless panties, since they're designed with virtually no visible stitching, raw edges, or noticeable waistbands. Many of the options on this list are also tagless, which helps create a smooth silhouette and prevents itching.
Material: The ideal fabrics for no-show underwear are thin, breathable, stretchy, and flexible — think microfiber made from nylon, spandex, and polyester blends. These fabrics tend to have moisture-wicking or quick-drying properties, which also makes them ideal workout underwear if you are, in fact, working out in your yoga pants. Otherwise, they'll keep you comfortable, dry, and chafe-free all day long, regardless of your activity level. Most of the underwear on this list also feature soft, breathable cotton gussets in the crotch area, which is better for vaginal health.
Shop The Best No-Show Underwear For Yoga Pants
In a hurry? Here are five of the best no-show underwear for yoga pants:
Whether you're lover of thongs or prefer something with a little more coverage, keep scrolling for the best no-show underwear for yoga pants.
This article was originally published on