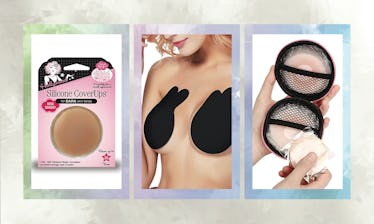 The 10 Best Nipple Covers
We only recommend products we love and that we think you will, too. We may receive a portion of sales from products purchased from this article, which was written by our Commerce team.
Elite Daily/Amazon
While going braless can be a liberating (not to mention comfortable) option, sometimes you might be looking for a little more coverage, if only for peace of mind that you won't run into a fashion emergency. Enter: nipple covers. Available in both reusable and disposable variations, the best nipple covers are comfortable, gentle on skin, and offer just enough coverage while remaining invisible under your clothes (unless you want them to be visible, that is — if so, there's a flashy option below for you, too). Nowadays, nipple pasties come in all colors, shapes, and sizes, and are no longer limited to those rubbery, hard-to-apply chicken cutlets; but before you begin your search, you'll want to keep a few things in mind.
Reusable Vs. Disposable Nipple Covers
First, consider whether you want reusable or disposable pasties. That decision comes down to how often you plan to wear them, and what will best suit your outfit choice. Disposable nipple covers are usually made from soft, smooth fabrics and feature a peel-and-stick adhesive. If you need a simple fix for a one-time occasion, disposable covers might be your best bet, since they tend to be more affordable and can be discarded when the party is over.
Alternatively, if you find yourself in need of nipple covers often, opt for a reusable set. They're typically made of hypoallergenic silicone, which is ideal for sensitive skin and remains comfortable for hours on end. Silicone options occasionally offer added lift and more support than their disposable counterparts, as well.
Regardless of whether you choose reusable or disposable nipple covers, make sure your pasties are large enough to cover both your nipple and areola. Nipple covers vary in diameter; and there are a few extra-large pasties on this list to accommodate almost every size.
How To Clean Reusable Nipple Covers
All the reusable silicone nipple covers listed below are reusable, and therefore washable — and with proper care, they can last several wears. To clean, simply wipe them down with soap and water after you take them off, let them air dry, and store them in a safe, dry place. Many reusable options come with a handy carrying and storage case.
How To Apply & Remove Nipple Covers
When applying your pasties of choice, be sure your skin is dry and clean of any residual lotion or oils to ensure the covers stay put for long periods of time. If you're having trouble removing your nipple covers, take a hot shower (the steam should help them loosen up), then pat the area with alcohol or baby oil to remove any sticky residue.
Now pull out that backless dress, and scroll on to shop 10 of the best nipple covers on Amazon.