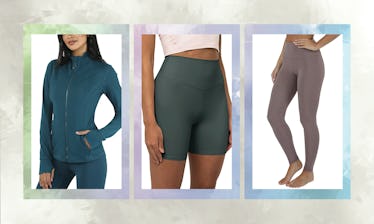 The 12 Best Lululemon Alternatives
Thousands of Lulu devotees have made the switch.
Elite Daily/Amazon
We may receive a portion of sales if you purchase a product through a link in this article.
Lululemon products have garnered a cult following, which naturally means that everyone is on the hunt for more affordable alternatives. Luckily, you can find some of the best Lululemon alternatives right on Amazon. From peach-skin leggings as soft and lightweight as the Aligns, to a performance jacket with a slim-fit silhouette like the Define Jacket, these pieces boast a similar look and feel to the originals, but they cost a fraction of the price.
What To Look For When Shopping For Lululemon Alternatives
Design Details
First thing's first, the best Lululemon alternatives have to look the part. What makes Lululemon apparel so unique are the details, which is why keeping an eye out for the small stuff can make a big difference when shopping for alternatives. For example, the Energy Bra's most notable feature is the criss-cross straps in back; the Align cropped tank is known for its built-in shelf bra with removable cups; and the Define Jacket is beloved for its slim, contoured fit. Overall, a good alternative should tick those very important design boxes.
Material
Looks are easy enough, but finding an alternative with that iconic feel can be a little bit trickier, especially when you're shopping online — which is why it's crucial to look at the material. Perhaps the most coveted alternatives are those from Lululemon's Align collection, known for its stretchy, buttery soft Nulu fabric made to feel like a second skin, or the performance tech offered in the Luon fabric. While it's impossible to find these trademarked materials anywhere but Lululemon, Amazon shoppers have weighed in by the thousands testifying that the picks below get impressively close. And if you need further convincing, just check out the countless reviews from devout Lululemon customers who've switched to these more affordable alternatives.
With that primer in mind, keep reading for a list of the best Lululemon alternatives available on Amazon, which all ring up at $40 or less.