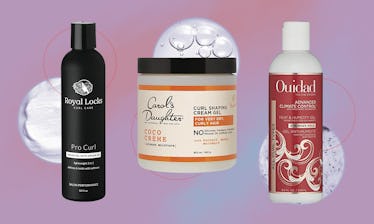 The 15 Best Gels For Curly Hair
We only recommend products we love and that we think you will, too. We may receive a portion of sales from products purchased from this article, which was written by our Commerce team.
Amazon / Elite Daily
As someone with curly hair, I'm always looking for the perfect products to enhance my curls. I've found that hair gels can be a game-changer if you have this type of hair, and they've come a long way since the crunchy, flaky, and drying gels of the past. The best gels for curly hair are formulated for your specific curl type and will give your curls the moisture they need while reducing frizz, resulting in shiny, bouncy hair that holds its shape. Here's how to pick the best gel for you:
1. Identify your curl type
One of the most important elements of any curly hair education is identifying your curl type. Curls range from type two (wavy) to type three (curly) to type four (coily and kinky), with subcategories from A to C that are based on the shape of the wave, curl, or coil. Some curls are even a combination of types. The curlier your hair, the more difficult it is for oils from the scalp to reach the ends of your strands, and the more moisture and conditioning you'll need from your gel. Some products for curly hair specify which curl types the product is intended for, but if the brand doesn't provide an intended curl type, it can be helpful to look at user reviews to see whether users with your curl type had good results. It can also help to look at the ingredients used in the gel and opt for one that focuses on moisture if you have especially curly strands.
2. Look at the ingredient list
Gels can contain a variety of different ingredients that can be beneficial for curly hair. If you require moisture, look for nutrient-rich oils like argan, coconut, monoi, macadamia, and apricot, and butters like shea, cocoa, avocado, murumuru, or mango. Other natural ingredients, such as honey, tomato fruit ferment, and spirulina, can nourish and strengthen your strands. Finally, ingredients like proteins, glycerin, polymers, polyvinylpyrrolidone (PVP), silicones, sorbitol, and amino acid extracts can coat your curls to lock in moisture, prevent frizz, and enhance your curl pattern.
3. Consider which type of gel you need
Gels come in a few different formats, so think about the one that would work best for you. Traditional gels are thinner, liquidy, and evenly coat your strands; they can enhance definition for all curl types. Cream gels can feel lighter but tend to be more moisturizing, which can be a plus for curl types three and four. A custard gel is thicker and heavier, and it can be beneficial for natural textured strands or can be used to elongate your curls. For the lightest touch, spray gels come in a liquid format that can be misted over your hair, ideal if you have fine strands or just want a finishing touch.
No matter your curl type, these 15 hair gels will enhance every curl, wave, coil, kink, and texture with softness and shine — Amazon reviewers confirm it.