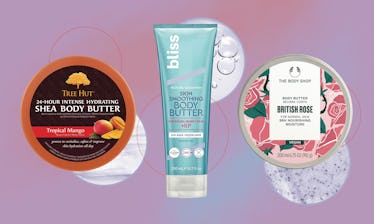 The Best Drugstore Body Butters
Body lotion not cutting it? Reach for one of these heavy-duty alternatives instead.
Elite Daily/Amazon
We may receive a portion of sales if you purchase a product through a link in this article.
When your usual body lotion isn't cutting it, a more nourishing body butter might just be the trick to transforming dry, cracked skin back to a smoother state. The best drugstore body butters contain nourishing plant-derived butters (e.g., shea butter or cocoa butter), and won't set you back more than $15. Typically, these concentrated moisturizers will be packaged in tubs that allow you to scoop out the buttery formula and apply it directly onto your skin. But if you prefer something a bit more lightweight, there are body butters out there that have more of a lotion-like consistency. Your scent preferences (or lack thereof) are also something to take into consideration when shopping for a body butter, and with that in mind, you'll find body butters on this list with scents that range from chocolatey to herbal.
Ingredients To Look For
Shea butter and cocoa butter are the two most common ingredients you'll find in a body butter, and some even contain both. Both shea and cocoa butter are rich in good-for-skin fatty acids and antioxidants, and they help to soothe dry skin by serving as a protective layer that prevents moisture from escaping.
Additionally, here are a few other ingredients to look for in a body butter:
Sunflower Seed Oil
Mango Seed Oil
Coconut Oil
Vitamin E
Glycerin
Alpha Hydroxy Acids (AHAs)
Shop The Best Drugstore Body Butters
In a hurry? Here are the best drugstore body butters:
1. Best Drugstore Cocoa Body Butter
A drugstore staple, Palmer's Cocoa Butter Formula has more than 20,000 five-star ratings on Amazon, and is a bonafide cult-favorite. Cocoa butter is the main ingredient in here, which gives the butter a solid consistency that melts into skin to lock in moisture for up to 48 hours. For additional skin-smoothing and protecting benefits, the butter contains vitamin E and sunflower seed oil. To top things off, the body butter boasts Palmer's signature chocolatey scent.
Note that the brand also offers its cocoa butter formula in a more compact stick applicator that's perfect for traveling, as it targets smaller patches of dry skin like your elbows, or can even be used as a lip balm.
Available Scents: 1 Key Ingredients: Cocoa Seed Butter, Vitamin E, Sunflower Seed Oil Size: 7.25 oz. Cruelty-Free: No
Relevant Review: "I have tried so many cocoa butter moisturizers and keep coming back to this one: it has the best smell, it is really really thick without being hard to spread, and the price is very reasonable."
2. Best Shea Body Butter
Shea butter is the main ingredient in Tree Hut's Shea Body Butter With Mango Purée, but it contains nourishing heavy hitters like cocoa butter, glycerin, and safflower seed oil, too. Meanwhile, mango fruit extract, which is rich in nutrients like beta-carotene and vitamins A and C, gives the butter a yummy, tropical aroma. If you don't love the smell of mango, this body butter is also offered in a few other scents, like 'Coconut Lime' and 'Lychee & Plum.'
Available Scents: 4 Key Ingredients: Shea Butter, Glycerin, Safflower Seed Oil, Cocoa Seed Butter, Mango Fruit Extract Size: 7 oz. Cruelty-Free: Yes
Relevant Review: "This is a very premium product but at a very nice price. It has a wonderful consistency and not greasy at all. It's a perfect post-shower moisturizer and has a rich, smooth feel on your skin."
3. Best Scented Body Butter
For a luxe pick that won't totally blow your budget, there's this body butter from The Body Shop. It's available in 13 decadent scents, from 'British Rose' to 'Almond Milk' to 'Pink Grapefruit,' so you're bound to find one you love. Whichever scent you choose, the formula contains a blend of cocoa butter, shea butter, glycerin, and sunflower seed oil that helps to keep dry skin smooth and moisturized for up to 96 hours. The brand also makes an effort to be more transparent about where their ingredients are sourced from, using fair-trade shea butter that's handcrafted in Ghana in their products.
Available Scents: 8 Key Ingredients: Mango Seed Oil, Cocoa Seed Butter, Glycerin, Sunflower Seed Oil, Shea Butter Size: 6.4 oz. Cruelty-Free: Yes
Relevant Review: "I love the smell. Great moisture. Doesn't leave my skin greasy or sticky. Price is worth it. I have very dry skin and only this body butter helps."
4. Best Calming Body Butter
If you're looking for a calming moisturizer that you can apply just before bed to help you wind down, try an essential oil-infused formula like this one, which combines shea butter, cocoa seed butter, and mango seed butter with a relaxing lavender scent. Those opposed to the slightly messier application of a body butter packaged in a tub will also like that this comes in an easy-to-squeeze tube.
Available Scents: 5 Key Ingredients: Glycerin, Shea Butter, Mango Seed Butter, Cocoa Seed Butter, Vitamin E Size: 7 oz. Cruelty-Free: No
Relevant Review: "I love this lotion! It's rich, creamy, and goes on non-oily. I put it on before bed and the lavender scent is soothing and calming. No better deal for the price."
5. Best Body Butter To Treat KP
When it comes to treating keratosis pilaris, you can't rely on moisturizing ingredients alone. To help smooth away the tiny bumps and dry patches that KP causes (typically on the upper arms, legs, or buttocks) you'll want a body butter that's also formulated with chemical exfoliants. The Bliss Texture Takedown Skin Smoothing Body Butter includes a 10% blend of lactic acid, glycolic acid, and mandelic acid to gently exfoliate, while shea butter, glycerin, coconut oil, and squalane work to keep skin moisturized. And if you're not looking to treat KP, Bliss also offers several other body butters, including my personal favorite, 'Lemon & Sage.'
Available Scents: 5 Key Ingredients: Lactic Acid, Glycolic Acid, Mandelic Acid, Shea Butter, Glycerin, Coconut Oil, Squalane Size: 6.7 oz. Cruelty-Free: Yes
Relevant Review: "Bought KP butter. It's super high quality. Thick, moisturizing, great for dry skin. My son has eczema on his hands and it cleared it up fast. I want several tubes around the house and in my purse for easy access. The smell on the KP butter one is different, but not at all unpleasant to us."
6. Editor's Pick
"I've long been a fan of Weleda's Skin Food line, with this body butter being my latest obsession," says Elite Daily beauty editor Adeline Duff. "It does a much better job of softening my dry, rough heels and bumpy calves than its lighter-weight counterpart, but boasts the same high-quality, botanically derived ingredients and soothing herbal scent. Plus, I love that it's packaged in recyclable glass."
Available Scents: 1 Key Ingredients: Shea Butter, Cocoa Seed Butter, Sunflower Seed Oil Size: 5 oz. Cruelty-Free: Yes
Relevant Review: "Superior quality, whipped texture, goes on smoothly, does not leave greasy residue, smells wonderful, heals dry skin overnite, could not be more impressed, will order more for sure!"
About The Author
Marissa DeSantis has worked as a beauty writer and editor for nearly 10 years. Her pieces can be found across print and digital publications like Bustle, Evening Standard, Teen Vogue, and InStyle.