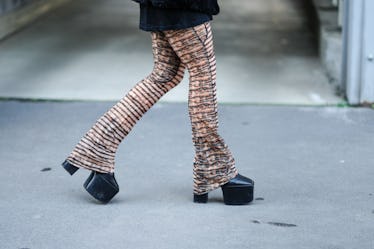 These boots are made for stomping.
Edward Berthelot/Getty Images Entertainment/Getty Images
We may receive a portion of sales if you purchase a product through a link in this article.
I've always been attracted to confidence, especially when it comes to footwear, so there's one trend that's right up my alley: The chunky boot. Like an exclamation point for your feet, the best chunky boots add some stylistic oomph to your outfit, not to mention a little extra height.
Chunky boots definitely make a statement, but don't be fooled: There's something to suit every personal style. If you're more of a minimalist, consider a Chelsea boot with a less exaggerated sole hovering around the 1.5-inch mark. The clean lines of the classic boot will complement so many styles of pants, skirts, and dresses in your closet, adding just a hint of edge to your ensemble. Or, if you're ready for a chunky boot that makes a major statement, go up to 2 or 3 inches for maximum chonk. Of course, the chunky boot plays right into the gothcore aesthetic, so you'll also find some Doc Martens, trendy lug-sole boots, and biker boots that'll have you safety-pinning your skirts and rimming your eyes with kohl. There are even chunky boots with high heels, rather than a flatter platform, for an evening-appropriate take on the look.
Ready to embrace the chonk? The best chunky boots ahead will take your shoe collection to soaring new heights.