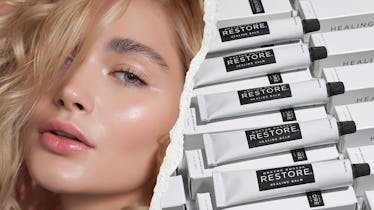 The Best Alternatives To Vaseline, According To A Derm
Five other options for slugging, new tattoos, minor burns, and more.
Elite Daily/Amazon
We may receive a portion of sales if you purchase a product through a link in this article.
There's a reason Vaseline is so popular. It's basically a cure-all for every skin concern imaginable, helping with everything from softening cracked cuticles and smoothing chapped lips to healing minor scrapes and burns (it once saved my inflamed skin after a bad brow wax, so I am personally forever indebted). But if you're not a fan, whether due to its texture or the ingredients inside, there are several alternatives to Vaseline that perform similarly, and you can find options with and without petrolatum (more on that in a minute).
"For those that want to avoid Vaseline, you may look for other moisturizers that contain lanolin, which comes from sheep's wool," dermatologist Dustin Portela tells Elite Daily of other popular alternatives to Vaseline. "Many products that contain lanolin may also contain petrolatum, so it is important to read labels carefully," he adds, noting that castor oil and castor wax are other good ingredient choices to look out for. Dr. Portela recommends avoiding any formulas that contain topical antibiotics, fragrances, or dyes. "Also, understand that for most of these alternatives, you will end up paying a bit more," he says of one last thing to consider.
The Expert
Dr. Dustin Portela, D.O., is a board-certified dermatologist and dermatologic surgeon. He has been published in several medical journals and is currently practicing with Treasure Valley Dermatology & Skin Cancer Center in Boise, Idaho.
What's The Deal With Petrolatum?
"Most dermatologists, myself included, recommend Vaseline to our patients daily," says Dr. Portela. "The occlusive environment promotes faster healing with less scarring," he explains of why Vaseline is so effective, adding, "It can also be used on dry, cracked hands and fingertips during the cold winter months."
However, some people choose to avoid Vaseline because it's made from petrolatum (also known as petroleum jelly), which is a by-product of crude oil. "Some people believe Vaseline could contain toxins from the petroleum chemicals," Dr. Portela shares of how Vaseline (and other petrolatum-based beauty products) got a bad rap. But he explains (and many other dermatologists and skin care experts agree) that these chemicals are removed during the refining and purification process. "USP-grade petrolatum (brand name Vaseline) is a very safe, non-toxic skin occlusive," he confirms. That USP-grade distinction is an important one, as it means that the product meets or exceeds the standards of purity that are set by the United States Pharmacopeia (USP), an independent, non-profit organization.
However, if you simply prefer to avoid Vaseline because you don't like the smell, consistency, or feel, there are plenty of other options to consider — with or without petrolatum — ahead.
Shop The Best Alternatives To Vaseline
In a hurry? Here are the best alternatives to Vaseline:
1. The Most Common Alternative To Vaseline
If you're not opposed to petrolatum, Aquaphor's Healing Ointment — another classic, multi-purpose ointment — combines the ingredient with several other moisturizers, including lanolin, which comes recommended by Dr. Portela. Similar to Vaseline, the petrolatum in here works as an occlusive to create a barrier over skin that's dry or damaged to prevent moisture loss and protect it from external irritants. But it also includes humectant ingredients like glycerin and panthenol to draw more moisture to the skin, as well as bisabolol to help soothe irritation. You can even find the product in a spray bottle for a mess-free application, as well as in individual mini tubes that are best used for lip balms.
Petrolatum-Free: No Key Ingredients: Petrolatum, Lanolin Alcohol, Panthenol, Glycerin, Bisabolol Size: 7 oz. Cruelty-Free: No
Relevant Review: "This stuff is the absolute BEST for dry skin! It's a thick consistency like Vaseline without the weird scent or greasyness. It soaks in beautifully and leaves my dry winter skin feeling softer almost instantly. I use it on the soles of my feet and hands. I like that this big tube has a twist locking cap as well. [It's] a great value."
2. Best Vaseline Alternative With Ceramides
I've yet to find a dermatologist who doesn't approve of CeraVe's line of products, and Dr. Portela likes the brand's Healing Ointment as an alternative to Vaseline because it contains the addition of three ceramides to help restore the skin's natural protective barrier. To further help moisturize and protect your skin — which can be used to smooth cracked heels or serve as a protective barrier on a minor burn — the formula utilizes hyaluronic acid, vitamin E, and panthenol. There is petrolatum in this ointment, but for those with skin sensitivities or acne, this is a fragrance-free and noncomedogenic option that's also accepted by the National Eczema Association.
Petrolatum-Free: No Key Ingredients: Petrolatum, Ceramides, Vitamin E, Hyaluronic Acid, Panthenol Size: 5 oz. Cruelty-Free: No
Relevant Review: "It is a very thick cream, almost the consistency of Vaseline and very soothing. Unlike Vaseline, however, this contains ceramides, which help heal your skin. It didn't sting on dry, damaged skin the way other creams did. I saw a marked improvement within a day or so of using it. Highly recommend for anyone with damaged, extremely dry skin! It also works well as a top layer, to seal in all your other serums and creams before bed."
3. Best Petrolatum-Free Alternative To Vaseline, According To The Expert
This healing balm gets Dr. Portela's top pick for being a great, petrolatum-free alternative to Vaseline. "This contains no petrolatum but is intensely hydrating to the skin with castor oil, glycerin, and castor wax," he says of the Doctor Rogers Restore Healing Balm. "It is a bit more expensive, but I often recommend this for patients following laser resurfacing procedures." While the product was originally developed to help heal post-procedure skin, it's also a beauty award winner, beloved for its versatility as a soothing and protective balm that can help with everything from preserving fresh tattoo ink to treating dry skin, lips, and nails. Those with sensitive skin will also like that the balm is hypoallergenic, gluten-free, cruelty-free, and vegan; plus, it's been given the National Eczema Association Seal of Acceptance.
Petrolatum-Free: Yes Key Ingredients: Castor Seed Oil, Glycerin, Castor Wax Size: 0.5 oz. Cruelty-Free: Yes
Relevant Review: "I had terrible cracking, dryness and itching around my lips for several weeks. I used Vaseline, Aquaphor [...] basically you name it, I tried it and nothing worked. I finally caved and bought this (I was hesitant due to the cost) but was [desperate] to find something that worked. This cured my problem in a couple days. If your on the fence, don't wait like I did and continue to suffer-just buy it."
4. Best Petrolatum-Free Alternative To Vaseline That's Organic
If you want to avoid lanolin as well as petrolatum (some people are allergic to lanolin), consider this Era Organics Superbalm. (Note that the Doctor Rogers Restore Healing Balm is also lanolin- and petrolatum-free, but this product has the added distinction of being organic, and it costs half the price.) This USDA-certified organic balm contains just a handful of ingredients, most of which are plant-derived oils and butters (though since it contains beeswax, it's not vegan). Thanks to the arnica and chamomile inside, it's nice and soothing, and can be used on babies and adults to treat all sorts of skin conditions, ranging from eczema to cradle cap to run-of-the-mill dryness. It's also made without mineral oil, fragrance, and other common irritants, making it a very safe choice for those with sensitive skin.
Petrolatum-Free: Yes Key Ingredients: Sunflower Oil, Castor Oil, Cocoa Butter, Coconut Oil Size: 2 oz. Cruelty-Free: Yes
Relevant Review: "The BEST cream! My baby had extremely dry skin and bumps all over his face/ head.... a very flaky case of cradle cap. I tried everything from Vaseline, coconut oil, ointments, balms, but nothing worked. Used this and his skin cleared up in 2 DAYS! It smells yummy too! Had to leave a review this stuff worked so well and so quickly!"
5. Best Petrolatum-Free Alternative To Vaseline Under $10
Another petrolatum- and lanolin-free option, this Pipette Baby Balm rings up at less than $10 on Amazon, making it a budget-friendly choice. Vegan, pediatrician-approved, and accepted by the National Eczema Association, this balm was created to be gentle enough for babies. But the hydrating formula can be used by anyone in need of a nourishing solution for dry skin or chapped lips. Sugarcane-derived squalane is the primary moisturizing ingredient in here, but other botanically derived moisturizers like pomegranate sterols, jojoba esters, and berry wax are included to leave skin feeling instantly smoother.
Petrolatum-Free: Yes Key Ingredients: Squalane, Pomegranate Sterols, Berry Wax, Vitamin E Size: 2 oz. Cruelty-Free: Yes
Relevant Review: "This is great for very dry and sensitive skin. I usually use petrolatum-based balms like Cerave Healing Ointment/Aquaphor/Vaseline for very dry and windy days and Egyptian Magic overnight. This is less occlusive and greasy than the petrolatum-based balms and less shiny than the EM so it's perfect for using most days without looking like a glazed donut."
Expert:
Dr. Dustin Portela, a board-certified dermatologist and dermatologic surgeon.