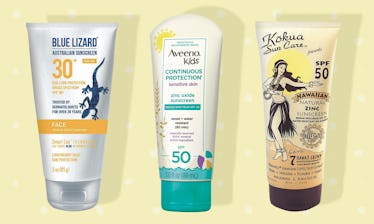 The Best Sunscreens That Won't Burn Your Eyes
We only recommend products we love and that we think you will, too. We may receive a portion of sales from products purchased from this article, which was written by our Commerce team.
Amazon/Elite Daily
Chief among those sunscreen complaints that are often used as an excuse to skip it entirely are the telltale smell or the white cast it leaves behind. But there's also the uncomfortable (and unfortunately, all too common) sensation of stinging and watering eyes. Whether you notice it upon initial application, or it only really starts bothering you once the sweat beads start rolling down your face, the discomfort is enough to deter many people from wearing sunscreen altogether. But there are sunscreens that don't burn your eyes out there; you just can't pick any old formula you see on the shelf. Ahead, a handy guide to the best non-irritating sunscreens on the market, which are all non-greasy and unlikely to sting your eyes.
Why does sunscreen burn your eyes?
Like any form of irritation caused by topical products, everyone is different, and there are dozens of ingredients that could be causing your skin and eyes to react. However, there are some common culprits in sunscreen that contribute to burning and watering eyes that you can avoid, such as fragrance and chemical filters (stick to mineral sun blockers, like zinc oxide and titanium dioxide, if chemical actives tend to aggravate your eyes or skin).
What are the best sunscreens for sensitive eyes?
Another simple way to ensure your sunscreen doesn't burn your eyes is to look for labeling like "tear-free" on the packaging. If you notice eye irritation only when you sweat or swim, choosing a water-resistant formula is an easy fix for preventing sunscreen from burning your eyes, too. And formulas that are created for babies and kids (or note that they're suitable for sensitive skin) are also safe bets when it comes to being tear-free and sting-free, as they tend to include fewer irritants. You can also try sunscreen serums, which — just like regular serums — absorb into your skin more effectively than lotions and creams, making the risk of them dripping down your face and into your eyes practically nonexistent.
To help avoid any tearful trips to the beach, here are some of the best sunscreens that won't burn your eyes.
This article was originally published on