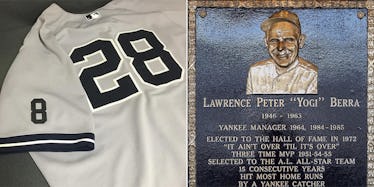 Yogi Berra's Legacy Means More Than Just MVPs And World Series Rings
Instagram
When people ask, "Who is your favorite baseball player?" you'll often hear responses such as Derek Jeter, Albert Pujols and Barry Bonds. These players are popular in recent history, of course, but sometimes, older legends are still mentioned, such as the late and great Yogi Berra.
Berra passed away Tuesday, September, 22 at the age of 90.
Berra's legacy is an impeccable one, and it will live on because of everything he accomplished.
His start in the majors wasn't easy, but as he once said:
If I had to do it over, I'd do it again.
Berra was born to Italian immigrants, and when his parents immigrated to America, there was an all-time high discrimination against Italians.
A St. Louis native, Yogi Berra dropped out of school in the eighth grade to support his family by working various jobs and playing baseball. Who thought a legend would be born then?
Where did Berra's nickname come from? While playing for the American Legion leagues, his friend and ex-Major League Baseball player, Bobby Hofman, gave birth to his nickname, "Yogi." Whenever Berra would sit with his legs crossed after he lost, or when he was waiting to bat, he looked like a Hindu yogi.
(Feel free to Google that image because it'll bring a smile to your face.)
But other than being a famous baseball player, Berra also served in World War II for the US Navy and was a part of D-day on June 6, 1944.
He is the epitome of an American hero. Once he served in the Navy, he went on to play for the Newark Bears and was called up on September 22, 1946 to play seven games for the New York Yankees.
The irony? He got his call on September 22, and 69 years later, he passed on that very day. If that doesn't give you chills, I don't know what will.
His 19-year baseball career will strike you the most, as his numbers were extremely impressive and will probably never be duplicated again.
He was a 10-time World Series champ, 18-time All Star, had 1,430 runs batted in and left the baseball world with a bucket of memories.
Once he retired in 1963, he went on to manage the Yankees. He left his mark on the coaching world when he also coached the Yankees, the New York Mets and the Houston Astros.
In recent years, he's been remembered mainly for his "yogisms." Berra probably is the best person to quote currently. Here's one of his many quotes that will make you wonder what he meant:
When you come to a fork in the road, take it. It's déjà vu all over again.
As he even said himself:
I don't know why I say these things.
The outpouring of love on social media that is still going on right now just goes to show how many people truly loved him.
Berra defined a generation that was obsessed with baseball. He impacted several generations of baseball lovers, and his legacy will continue to live on in history.
His career as a catcher must have inspired many of today's catchers. Being a catcher is probably the hardest position to play in baseball, and he did it beautifully.
I'm sure he's probably discussing his 1985 firing with George Steinbrenner right now.
He probably managed to find that home plate umpire he argued with over the call, during 1973 World Series when he was the Mets manager.
Yogi Berra probably spit fire at him that day. Actually, he's probably arguing with Jackie Robinson.
During Game 1 of the 1955 World Series, Robinson stole home plate, and the home plate umpire said he was safe. Thank goodness for that footage because you can see how Berra got all riled up.
(For the record, he was safe, Yogi.)
There are so many moments to discuss here, but all in all, rest in peace, Yogi Berra, you baseball icon.