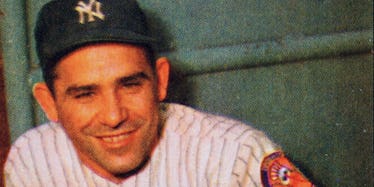 18 Yogi Berra Quotes That Will Help You Win At Everything You Do
Late last night, New York Yankees legend Lawrence Peter "Yogi" Berra passed away at the age of 90.
It is with heavy hearts that we share the news that Yogi Berra passed away Tuesday night at the age of 90. #YogiBerra pic.twitter.com/0BSctBzhTb — Yogi Berra Museum (@Yogi_Museum) September 23, 2015
A 10-time World Series champion and an 18-time All-Star, Berra was more than just a great baseball player.
The Missouri native was also adept at, well, speaking nonsense.
His Yogi-isms (sayings that often made little to no sense or were somewhat contradictory) were legendary, as was the bravado with which he delivered them.
Yogi was bigger than the game itself, and his words had much deeper meaning and application beyond baseball.
Here are 18 Yogi Berra quotes to help you win at life. Here's to you, Yogi.
1. When your friends want to go to that popping spot that used to be low-key chill...
No one goes there nowadays, it's too crowded.
2. When your significant other complains you never go out...
A nickel ain't worth a dime anymore.
3. When your boss asks if you're free for a meeting at 3:30...
I usually take a two-hour nap from 1 to 4.
4. When you crash the car and your parents ask, "What were you thinking?"
How can you think and hit at the same time?
5. When your friends want to go to one more bar at 1 in the morning...
It gets late early out there.
6. When your significant other wants to know why your savings account is nonexistent...
The future ain't what it used to be.
7. When your boss asks how you managed to let that account slip through your fingers...
Even Napoleon had his Watergate.
8. When your friends grill you about the blind date you just went on...
It was impossible to get a conversation going, everybody was talking too much.
9. When someone asks why you're sweating so much, even though it's not that hot out...
It ain't the heat, it's the humility.
10. When your coworker asks why you didn't back him or her up in that meeting...
If you ask me anything I don't know, I'm not going to answer.
11. When your friend just got dumped for a fourth time this month and is looking for advice...
Take it with a grin of salt.
12. When your sister asks why all the bad things in life only happen to her...
If the world were perfect, it wouldn't be.
13. When your significant other asks you if he or she should jump ship and accept this job offer...
When you come to a fork in the road, take it.
14. When the bartender cuts you off before you're ready to leave...
It ain't over till it's over.
15. When the barista at Starbucks finally knows your order after you've been going there for five years...
It's like déjà vu all over again.
16. When your boss wants to know why you haven't signed any new business this month...
You can observe a lot just by watching.
17. When your friends want to know why you missed out on tickets for the Drake/Future concert...
We made too many wrong mistakes.
18. When your significant other asks, "What did you just say to me?"
I never said most of the things I said.
Citations: Yogi Berra Quotes (Baseball Almanac), The 50 greatest Yogi Berra quotes (For The Win)