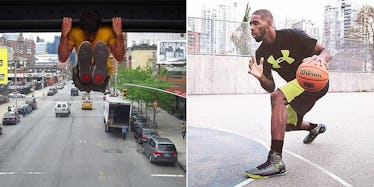 This Instagram Account Is Basically 'Humans Of New York' For Athletes
Instagram
When Humans of New York began in 2010, the goal was to showcase photographs of 10,000 New York City inhabitants.
Soon, though, the stories and quotes the New York City residents started sharing became as important as the photographs they accompanied.
Now, HONY boasts upward of eight million followers on social media, has become a New York Times bestseller and has served as inspiration for other accounts, like the wildly successful Millennials of New York.
Another example is Wooter, a website that seeks to make finding sports leagues in your area as simple as possible. You enter your zip code, select your sport and should be enrolled in a league in no time.
In addition, Wooter runs an Instagram page highlighting the many athletes who participate in the various leagues it advertises.
Each picture it posts is accompanied by a quote and, whether the people behind the account realize it or not, they've created something very similar to Humans of New York.
Check out a few of the photos and stories of everyday athletes and weekend warriors who really are playing for the love of the game.
@movingforward11
"The freedom I feel when the ball is at my feet can't be described with words but if i had to use one word it would be Love."
@jordantreyboyd
"I love basketball just because it puts me in a peaceful mood. I just love the thrill of it. I've spent the best days of my life and the worst days of my life on the basketball court. Whenever life gets tough, basketball is always there. It's not something that I use to distract the pain, it's actually a healer for me. I also love basketball just because it has a lot of life lessons to it. Basketball is a lot like life. When things go bad for you, there's another game. You miss a shot, you got another shot. When I'm on the court. I'm at peace."
@healthyrunner_22
"To be a champion, I think you have to see the big picture. It's not about winning and losing; is about everyday hard work and about thriving on a challenge. It's about embracing The pain that you'll experience at the end of a race or lift and not being afraid."
@thefutureisourstv
"My love for football is unspeakable. Ever since that first taste when I was young, I've enjoyed everything that surrounded the game more than the game itself. Growing up supporting my local team, I felt that every time I turned up at a ground either home or away it was my duty to represent my city in a way that would make it proud. Simply, without football my life is worth nothing."
@hillwopper
"Basketball is life and tranquillity. I love everything about this game. The pulse of the dribble, the swish of the net, the squeaking of soles. It really is life, the ball is the heartbeat that carries life from shot to shot. When I'm on court and in between the lines, I just feel at peace and the world goes away. The court heals and lets you cope with anything from heartache to stress to death. It doesn't judge, instead it soothes and takes the pain away. That's what basketball means to me."
@thatguyjayp
"I do sports, not for the money, but for the love and desire to succeed."
@chris304lane
"Fitness and coaching are my passion, craft, and profession. Like religion, I have witnessed fitness both save and change lives; aligning stars and altering destiny by the power of dreams, work ethic, commitment, hunger, and heart. Keep faith in the process, and first and foremost, in God."
@0marelsheikh
"For me bodybuilding is not just getting bulky, it's mainly about maintaining a functional well built physique. Bodybuilding give me the opportunity to challenge myself both mentally and physically, knowing that you only get what you work for. Whenever I feel that a certain workout or routine doesn't challenge me anymore, it is time to raise the level of my training a bit, for example by adding more weights, reps, speed or distance, and even try completely new workouts to keep my body away from adaptation."
@remyremzathlete
"I joined the military with the dream of trying out for the All Army Boxing Team. In 2014, I fractured my lower back and was discharged from the military. I was told surgery would be the only way I'd become one hundred percent again. A few months later, I bulged two discs in my neck - but I didn't give up. I went to physical therapy, refused surgery, and trained and pushed myself. I'm hoping to be fighting again by 2016."
@wordsfromabove
"Basketball is an art: it allows every athlete to perform in their own way. Because we are all shaped differently and weigh differently, we all play differently. I started at 9 years old - right around the time I started growing even taller than my teachers. Basketball has connected me with some amazing people and also helped me become more in touch with my spirituality."
@dibbsongibbs
"I'm addicted to improving over changing. The main philosophy I go by is being serious and committed. I tell people if you want to get better and improve, you have to be serious about that goal - and you have to commit to the process of achieving that goal. That's#SeriouslyCommitted: understanding that anything close to greatness doesn't come easy."
@wooterathletes
"The feeling of playing baseball is indescribable. I guess you can call it a love/hate relationship; there's pain, there's emotion, but when I'm playing, I forget about everything else."
@tjthecontender
"There will be haters, doubters, non-believers, and then there will be you progressing. It's not about what others say or think about you, all that matters is what you think think and do. BELIEVE IN YOURSELF!"
@stevecook_32
"Live the life you've always imagined"
@khoibphan
"Still loving this game. Every minute, every moment, every opportunity to play…"
@slikric83
"Great things never come from comfort zones."
@s_sharrers
"We don't quit, we don't cower, we don't run. We endure and conquer."
Citations: wooterathletes (Instagram), Revolutionizing Recreational Sports (Wooter)