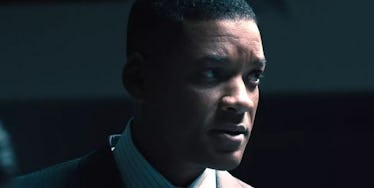 Will Smith's Film 'Concussion' Sheds Light On Dangers Of NFL Injuries (Video)
"Concussion," starring Will Smith, is set to be released this December -- right at the peak of the NFL season -- and the movie could land a major blow to one of the most powerful organizations in the world.
In the film, which is based on a true story, Will Smith plays Dr. Bennet Omalu, a neuropathologist who made the first known discovery of CTE (Chronic Traumatic Encephalopathy) in football players.
The movie focuses on Dr. Omalu's fight for his findings on football and head trauma to be recognized and made public, despite the big, bad NFL doing everything in its power to keep him quiet.
From the trailer, Will Smith looks as powerful as ever, but the film paints the NFL as an all-encompassing, shady organization that refuses to acknowledge a connection between football and CTE.
Can't wait to catch this one during the holiday season.
Citations: On Air Pressure, Head Trauma and the Preseason (MMQB)