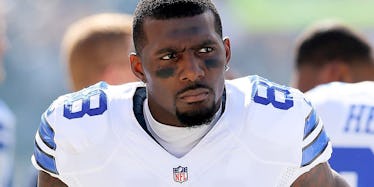 What Really Happened On The Dez Bryant Tape And Why Is It A Big Deal?
Getty Images
Since the calendar rolled to 2015, no one on the Dallas Cowboys has been more talked about than star wide receiver Dez Bryant.
The season ended with a controversial almost-catch at Lambeau Stadium that was debated for weeks.
In the offseason, many have speculated whether or not he will receive the franchise tag from his team, and if he'll receive an elite receiver long-term contract.
That discussion has spawned a new controversy stemming from a tape certain parties have threatened to release, which would irreparably damage his chances to earn a big deal and could cost him a long suspension.
The talk of this video blew up yesterday evening and the Internet was abuzz with speculation.
Of course, this is what bored people do, especially ones who make their living writing about sports (that must be nice). Deadspin even suggested they would possibly pay for the video, despite not having a clue about what was recorded.
This exercise just shows how thirsty the Internet media has become (one of the major downsides of fame), and how this should serve as a cautionary tale for those elite prospects entering the NFL this season.
So, what actually happened?
In the early days of his Cowboys career, the first-round pick from Oklahoma State had multiple incidents that required police involvement.
One such incident occurred on July 11, 2011. A Mercedes-Benz and a Cadillac Escalade registered to Bryant were involved in an early-morning disturbance in a Walmart parking lot.
A woman was allegedly dragged from the Mercedes to another car in the parking lot. However, she left the scene when the reporting officer arrived. She later returned with Bryant, who answered questions the officer posed. The officer determined nothing occurred and allowed all parties to leave.
This is the lone report from the incident, obtained by the NFL earlier this month and available on their site.
No one has revealed what is on this tape, but network reporters like Adam Schefter and Mike Florio have suggested this is the event in question.
If this is the situation, either someone lied to the police in July 2011, or we're in for a major letdown. To even suggest the latter is a horrifying assessment of our culture and how we judge what's news.
Why is this considered news?
We've long known Dez Bryant has issues with the law. Six times, the police have been called to his house in DeSoto, Texas since he joined the Cowboys in 2011.
He has struggled with his off-field image, gotten kicked out of a mall and even pretty much needed a babysitter assigned by the team.
Granted, he's not the only one on the team who has come under scrutiny in the past few years. Josh Brent killed teammate Jerry Brown while driving drunk in 2012 and returned to the team after serving his sentence.
Apparently, Jerry Jones isn't one to shy away from controversy, and will stand by his players. But, what is most disturbing about the Bryant incident is the hype surrounding it.
Places like Deadspin suggest the video might show actions more heinous than Ray Rice's elevator recording and are offering money for the footage.
They're betting on rumors that haven't been confirmed. It almost feels like Deadspin is trying to make this a bigger story than what exists.
It has the potential to a big story if it has any substance, but if there were substance to these rumors, don't we think the video would have come out sometime before these rumors surfaced during the 2014 season?
A cautionary tale
For guys entering the 2015 draft, this incident should serve as a lesson of what not to do when you get paid. If you buy three cars worth at least $250k early on in your career, you may be going a little crazy. You can only drive one at a time.
Those things cost more than a regular car every year in insurance and maintenance. Early wealth should be spent with increasing, not depreciating, assets.
Money spending aside, it's important to choose your associates wisely. If I'm a franchise-saving wide receiver, the last thing I want to do is drive someone to Walmart at 6 am to resolve some dispute.
Dez may not have know why two of his cars were in that parking lot at dawn, but it's his business to avoid such incidents.
While he has improved on the field and Dallas wants to keep him long-term, these repeated instances of poor judgment allow the office to pause on giving him a long-term deal.
The Cowboys seem to be holding onto their 10-year deal worth over $110 million, but with only $20 million guaranteed.
Whether or not the video reveals an atrocious act, Bryant's early actions could cost him tens of millions over the span of his career.