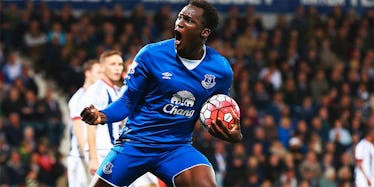 No Mersey: 5 Things To Watch For In Week 8 Of The English Premier League
Facebook/Everton Football Club
Have a look around the European football landscape this weekend, and you'll find some of the biggest games known to man.
In Germany, Robert Lewandowski and Bayern Munich will face Borussia Dortmund in a matchup of the Bundesliga's top sides. In Spain, Cristiano Ronaldo and Real Madrid visit Atlético, to reignite the Madrid derby. In France, Marseille takes a trip to Paris to face Zlatan Ibrahimovic's PSG in a rivalry aptly dubbed, "Le Classique."
Therefore, the English Premier League has a high standard to live up to.
Super Sunday is looking to do just that, with Liverpool and Everton tangling in the Merseyside Derby and Arsenal facing Manchester United in a clash of two historically rich sides.
Elsewhere, though, there will be plenty of action to keep an eye on. Here are five things to watch for this week in the English Premier League:
1. Old Rivalry, New Edition
There's something about the Merseyside Derby that harkens us back to a different era in English football.
Sure, there are still many great, traditional English top-flight rivalries, but this one seems to have the most appeal for the old-school football fan.
That is partly due to the fact Goodison Park, with its old stands and seats close to the action, has barely changed since the days when Everton were title contenders.
Separated only by Stanley Park, the two Merseyside clubs draw support from the same community and the same families. This is a derby with noise, atmosphere, history and poignancy. Even if the game is awful -- and derbies often are awful -- this fixture feels special.
In the past, you could almost feel the envy dripping from the stands as Everton hosted their more decorated neighbors. But right now, it's Everton who have their tales up.
Lying in fifth, Everton have lost only once this season to Manchester City. Right now, they face a Liverpool side who, despite having beaten Aston Villa last week, still look uncertain under Brendan Rodgers.
Rodgers has described the reaction to Liverpool's losses as "hysteria," but the cries for his head will seem justified if Liverpool loses the derby.
For Everton Manager Roberto Martinez, confidence is sky high. Down to West Brom on Monday, 2-0, Everton put in a stellar second-half performance to win, 3-2, with star striker Romelu Lukaku grabbing a brace.
After winning the transfer window battle to keep star defender John Stones, Everton is showing great performances.
Everton strongly believe they can beat Liverpool on Sunday. This is one of the most intriguing (and potentially important) derbies of the season so far.
It may not be a good game of football always, but this is the Merseyside Derby. It always matters in the city of Liverpool.
2. Gut Cech
I couldn't stop the LOLs and even the LMFAOs on Tuesday night, as I listened to Arsenal fans phone in to the BBC post-game call-in show, after their home defeat to Olympiakos.
"I'm baffled," said one caller. "I'm shell-shocked," said another, before going on to say he was "so down at the moment" he couldn't talk.
Steady on, chaps. This is Arsenal we are talking about.
The truth is, we've seen this all before. The 3-2 Champions League defeat was vintage Arsenal, albeit against an Olympiakos team registering their first competitive win on English soil.
The omission of goalkeeper Petr Cech was odd, but it was not the only reason Arsenal lost. This Arsenal side lacks the consistent character and mental strength to get it done when it's absolutely necessary.
Wenger's side faces Manchester United on Sunday, who, last season, emerged with a 2-1 win at the Emirates. That loss was vintage Arsenal too.
They dominated that game and created the bulk of the chances. Yet, they were sucker-punched twice by United on the break.
On Tuesday night, Olympiakos striker Alfred Finnbogason said Arsenal "don't want to defend." He might have a point.
Arsenal in full flow is a beautiful side to watch, but when it comes time to roll up their sleeves and do the dirty work, they are often marked absent.
Manchester United may not be the finished article yet, but their emerging pace on the flanks, with Memphis Depay and Anthony Martial, should worry Arsenal supporters.
Arsene Wenger was on the defensive in his press conference this week, and it's time for his team to follow suit.
3. Next Man Up
Newly-promoted sides simply can't afford to lose a striker to injury for the entirety of their maiden season in the top flight.
Unfortunately, that's exactly what happened to Bournemouth, with the news that six-goal striker Callum Wilson will be sidelined with an ACL tear for the season.
Step forward, Glenn Murray.
Many people applauded Manager Eddie Howe's decision to bring Murray to the Cherries from Crystal Palace. Now, Murray is the main man tasked with scoring the goals to help keep Bournemouth in the top flight.
An accomplished performer with a decent goal-scoring record, Murray, who found himself surplus to requirements at Palace, is now front and center for Bournemouth in the Premier League, at the tender age of 32.
Some goals against Watford this weekend could start a new chapter in the Bournemouth fairytale.
4. Cometh The Hour
After the midweek humbling at former side Porto, surely Jose Mourinho must make a change of some sort, to aid his bumbling defense. Will he turn to Chelsea legend John Terry to steady the ship?
It's been bad all over the pitch for the blues. But when the chips were down in the past, Jose could always rely on solid, resolute defending.
Not so much anymore.
Newcastle bagged two against Chelsea last weekend. Yes, Newcastle. That defensive base seems to have evaporated in the space of a summer.
Terry, Branislav Ivanovic and Gary Cahill made up three quarters of the defense in the PFA Premier League team last term. Terry now finds himself benched, while Ivanovic inexplicably remains in the team despite his wretched form.
Something needs to change, and quickly, at Stamford Bridge. Maybe the return of JT can help galvanize this team.
Over to you, Jose.
5. Just What The Doctor Ordered
City won't lose at home to Newcastle and make it three Premier League defeats in a row.
Goalkeeper Joe Hart returns for this match and David Silva, that wonderful maestro, could start. Silva is reason enough to watch this game, and he and Kevin De Bruyne could start again together. That could be enjoyable.
Yaya Toure is doubtful, but by Saturday night, City will be back on track with all three points.