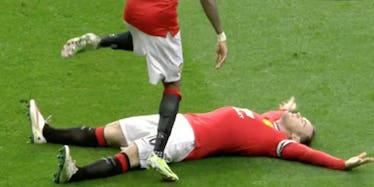 Wayne Rooney Had The Perfect Response To Getting Knocked Out On Tape (Video)
Few people could come back from being totally embarrassed on the Internet in a matter of 24 hours, but Wayne Rooney expertly pulled it off.
Hours before Sunday's big matchup against Tottenham, The Sun exposed the Manchester United captain.
Somehow, the British tabloid obtained video of Rooney sparring, boxing gloves and all, against Stoke City player Phil Bardsley.
It wasn't long into the short video until Rooney was knocked out -- on his own kitchen floor of all places.
Considering the hilarious combination of his status and the fact he went down for the count in his own home, you'd assume there was no way Rooney could come back.
But, he did.
His goal against Tottenham was one thing, a typical show of strength and balance that saw him ghost by four defenders before slotting the ball home.
But, the celebration was something else.
Wayne Rooney mocks boxing video in goal celebration (via @FanSided) http://t.co/v6jFS5XWy9 pic.twitter.com/7fzy538EZf — Sports Illustrated (@SInow) March 15, 2015
If anything, Rooney proved the best way to get over an embarrassment is to get in on the joke yourself. Well done!