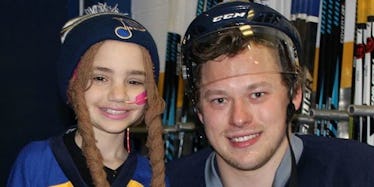 Video Of NHL Team Singing Happy B-Day To A Fan With Cancer Will Make You Cry
Instagram
Though he's still just 25, Vladimir Tarasenko has already established himself as one of the premier players in the National Hockey League.
Yeah, straight filth.
However, Monday night, Tarasenko, who plays for the St. Louis Blues, made the play of the day away from the ice.
According to reports, last week, the 25-year-old forward attended a Blues charity auction and outbid everyone for the prize of a trip for two with the team on a road trip next month.
The prize included flights, tickets and lodging at the team hotels.
So, why did the best player on the St. Louis Blues bid on this once-in-a-lifetime opportunity?
Answer: Vladimir Tarasenko gifted the ultimate fan package to Arianna Dougan, a young Blues fan who is battling cancer.
Dougan was reportedly diagnosed with neuroblastoma at the age of 4, and she's defeated the disease three times in the last eight years.
Monday night, she celebrated her 11th birthday with Vladimir Tarasenko and the Blues, and in addition to receiving the best gift ever from No. 91, she was also serenaded with a stirring rendition of "Happy Birthday" inside the Blues' locker room.
Warning: The below video is amazing and will make you cry.
Speaking on her daughter's unbelievable birthday surprise, Arianna Dougan's mom, Lori Zucker, said,
I was crying in the background. The fact that we're celebrating an 11th birthday is just the most amazing emotional thing anyway. And then you add to it and see her walking around (the Blues locker room) and smiling and able to be here and get this amazing gift... it's amazing.
Lori, I think we're all crying now.
Apparently, Vladimir Tarasenko and young Arianna Dougan first met in 2015, and they took an epic selfie together on "Hockey Fights Cancer" night last year.
If this doesn't thaw your icy heart, nothing will.
Vladimir Tarasenko, you're the real MVP, both on and off the ice.
Citations: Vladimir Tarasenko Surprises 11-Year-Old Fan Battling Cancer with Trip of a Lifetime (Video) (Total Pro Sports)