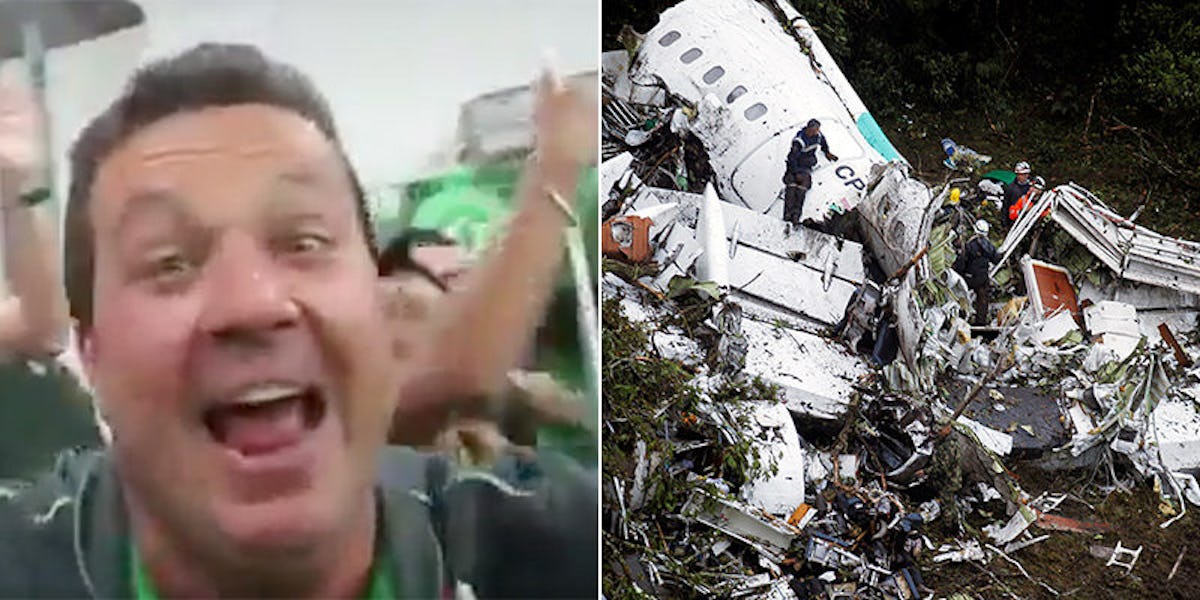 Heartbreaking Video Shows Soccer Team Celebrating Days Before Plane Crash
Twitter/REUTERS
Just days before the Chapecoense soccer team boarded a plane that crashed and claimed the lives of 71 passengers, the club had been celebrating a monumental win.
That win was against Argentinean club San Lorenzo last Wednesday night in the Copa Sudamericana, a competition that features some of the best clubs in South America.
Here's the video of the players' raucous reaction in their locker room.
Chapecoense players celebrating reaching the Copa Sudamericana final just 5 days ago. Heartbreaking. pic.twitter.com/yAgkyN6EY8 — Football__Tweet (@Football__Tweet) November 29, 2016
By getting past San Lorenzo, the Brazilian-based Chapecoense team had booked its place in the final of the tournament, which means the team had true reason to celebrate.
The players and staff can be seen chanting, taking selfies, jumping around and popping champagne for the duration of the clip.
But the unbridled joy expressed during that celebration now stands in contrast to the horror the Chapecoense team faced Monday night.
On Monday, the team boarded a flight scheduled to travel from Bolivia to Medellín, Colombia, for the final of the Copa Sudamericana.
Right before take-off, the players' apparent excitement on the flight was captured in various social medial posts.
Amid stormy weather, the plane crashed in a Colombian jungle killing 71 passengers, including 21 journalists that had been traveling with the team.
Only six people survived the crash.
Among the survivors were three players, two crew members and one journalist, according to The Guardian.
A photo taken in Colombia on Tuesday shows one of the players, Alan Ruschel, rushed to medical attention.
The crash is not unique in the world of soccer. A similarly tragic event happened to Manchester United, one of the most popular sports teams in the world, way back in 1958.
Now known as the Munich Air Disaster, the crash claimed the lives of 23 of 44 passengers, including eight players.
To this day, fans and players alike mourn the tragic event, including current Manchester United star and goalkeeper David De Gea, who sent out a message of grief on Tuesday for the Chapecoense team.
In the wake of the crash, The Guardian reports Brazilian president Michel Temer has declared three days of national mourning.
Citations: The Guardian