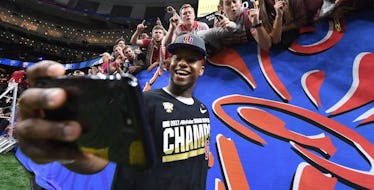 Video Reveals Football Star Said Homophobic Slur Before Brutal Attack On Woman
REUTERS
A video was just released of Amelia Molitor's police interview about the night football player Joe Mixon punched her.
The incident happened in July 2014, the day after Mixon's birthday.
Molitor told police the confrontation started while she and a friend were smoking cigarettes outside a restaurant in Norman, Oklahoma.
She said,
Kind of out of nowhere, I don't remember if they were already standing there or they came out of nowhere, there were four gentlemen that just like were making catcalls at me, commenting on how I looked and it just kind of escalated from there.
Molitor said that while she had trouble remembering what happened, she remembered the men talking about Mixon's birthday. She said,
Like, 'It's my boy's birthday, what are you going to do for him?' Suggesting that I go home with him and making very specific suggestions about what I could do you know, to pleasure him. My first reaction was to laugh.
After she laughed, the situation turned dark.
Molitor said she told Mixon she would "never in a million years go home with you." After she gave that rejection, she said, Mixon used a homophobic slur, asking if she would rather go home with the friend that was with her.
This enraged Molitor. She said,
I got really mad, so I faced Joe and was like, 'Don't fuck with me. Do not mess with my friend. Just stop. Go away.' And he was like, 'Oh, you're a bad bitch, what are you going to do about it?'
Mixon's friends allegedly called Molitor names as well. Molitor and her friend had enough, so they went inside the restaurant.
But Molitor said Mixon's friends asked him if he was "going to take that from her." He followed her inside the restaurant.
Surveillance video shows that Molitor stood up and pushed him. Mixon then punched her in the face. The video is disturbing.
Mixon has said the incident was escalated by racial slurs. He told police her friend had used a slur against him, which led to the violent confrontation.
Molitor told the police she did not use that language.
Molitor said being punched felt like getting "hit by a train." She said,
And then black. I regained consciousness and there was blood all over the floor.
Mixon said the incident started when Molitor was "being disrespectful" and "smoking in my face and acting crazy."
Norman Police Detective David Freudiger told Molitor what she told him contradicted with what witnesses said. Witnesses "want me to believe that this all started over cigarette smoke."
He said witnesses insist,
That they were perfect angels about it and very politely tried to correct the situation where they were around some secondhand smoke, and none of this other stuff.
But Freudiger said Molitor's explanation seemed "much more reasonable." He added "almost everyone" said Molitor did not use a racial slur.
The video of the incident was released at the end of last year. Mixon issued an apology.
Mixon was charged with misdemeanor assault and ordered to one year's probation, 100 hours of community service and behavioral counseling.
The University of Oklahoma football team suspended him for one season.
He is now back on the team and awaiting the NFL draft.
Because of his punch, Molitor's jaw was wired shut. She had no feeling on the left side of her face for six months.
Citations: Woman who was viciously punched in the face by Oklahoma football player Joe Mixon says he and his friends made unwanted sexual advances toward her (Daily Mail), Joe Mixon, friends made 'catcalls,' victim said in 2014 police interview (ESPN)