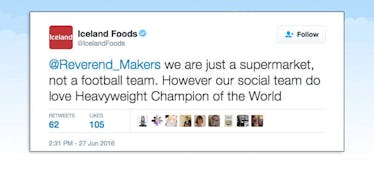 Twitter Hilariously Confused Iceland's Soccer Team With A Grocery Store
Monday, the tiny Nordic nation of Iceland quietly shocked the world.
A country with fewer than 350,000 people managed to put together a national soccer team that defeated that of mighty England, 2-1, in the round of 16 at UEFA Euro 2016. Seemingly, the entire nation was in attendance at the Allianz Riviera stadium in Nice, France.
Iceland, the smallest nation to qualify for this summer's European championship, was ranked 131st in the world just a few years ago. Now, it's one of the last eight teams remaining in a major tournament.
As you can imagine, Iceland has become the darling of the international soccer tournament. Fans from all over the world have taken to Twitter to voice their support for this underdog team, and I just purchased a team jersey on eBay.
Live in the moment, right?
In the wake of Iceland's monumental upset of England, folks immediately started tweeting at the Iceland soccer team, only they apparently got confused and accidentally tweeted at Iceland Foods, a British frozen food company.
This exchange between Iceland Foods and the beer company Carlsberg is what dreams are made of.
To top it all off, Iceland Foods acted as if this whole thing was masterminded before the match started.
@GillianNicholl8 @E_L_James @mcgregor_ewan @footballiceland who said it was unplanned — Iceland Foods (@IcelandFoods) June 27, 2016
Who else is down to book a ticket to France for Iceland's quarterfinal match?
Citations: Twitter confused Iceland Foods with the football team and the result was glorious (Mashable)