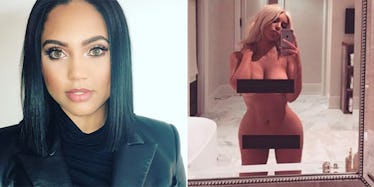 Twitter Is Comparing Ayesha Curry And Kim Kardashian, And It's Getting Messy
Instagram
In the most Internet way possible, Ayesha Curry and Kim Kardashian West are at the center of a Twitter beef in which neither is actively participating.
Though it might be confusing to some, it's still easy to see how the basketball wife and reality TV star arrived at this point.
Ayesha Curry, the popular wife of NBA MVP Stephen Curry, hasn't said a damn thing worth mentioning today.
Yet, here she is at 1:02 pm EST as the number one organically trending topic in the US on Twitter.
It's undeniable Curry couldn't have gotten there without this...
...and this happening.
Why? Because every time a debate about modesty ignites over Twitter, which definitely happened after Kim K dropped her latest nudes, a mention of Ayesha Curry can't be too far behind.
Much of that fact stems from Curry's infamous tweet a while back.
Everyone's into barely wearing clothes these days huh? Not my style. I like to keep the good stuff covered up for the one who matters — Ayesha Curry (@ayeshacurry) December 6, 2015
For many, that tweet made Ayesha the mascot of #TeamModest and the person to compare any woman to when necessary.
That's why this was so easy to see coming.
twitter gotta compare Ayesha Curry to a new woman every week — Nathan Zed (@NathanZed) March 9, 2016
there is dangerous rhetoric surrounding this kim k nude and her comparison to ayesha curry. — niki (@missjournalism) March 8, 2016
Ayesha Curry be trending without doing anything lmao — Moe Alayan (@MoeAlayan) March 9, 2016
"Ayesha Curry..." "Amber Rose..." "Kim K..." pic.twitter.com/FQrAOUTdeE — The SugaHoneyIceTea (@ThePeepPrincess) March 9, 2016
By "this," I mean people talking about getting themselves Ayesha Currys instead of Kim Kardashians.
Leave the Kim K's alone and Get you an Ayesha curry — JAY ₆✍ 6'2 (@VIEWSFROMJAY) March 8, 2016
Kim's a hoe get you a wife like Ayesha Curry . — Kylie Jenner (@TreyPapii) March 8, 2016
When Amber Rose and Kim K think they're better moms than Ayesha Curry pic.twitter.com/2B9zS21VJQ — Mike Strypes (@mikestrypes) March 9, 2016
Get you an Ayesha Curry... Not a Kim Kardashian — § (@PhatEgyptian) March 8, 2016
Get you an Ayesha currypic.twitter.com/3TV3dd9s4i — ⠍⠕⠝⠊⠟⠥⠑ (@fentyswife) March 9, 2016
Get you an Ayesha Curry & life's gonna be swell... — Eden's Adam (@iMooLikeACaL) March 9, 2016
Get you a Ayesha Curry — Jay Gatsby (@oneCR_15) March 9, 2016
Get you an Ayesha Curry and chill — Beardless Yoruba (@O_tunj) March 9, 2016
Quit fuckin with that Amber Rose and get you a Ayesha Curry. — Creacy (@ChrisCreacy) March 9, 2016
Be the Ayesha Curry in a world full if Kim K. #AyeshaCurry — katrina (@kitkatbars91) March 9, 2016
In a world full of Thotashians, be Ayesha Curry. pic.twitter.com/cxVL5aXNqn — ALPO (@BigDaddyCurve) March 9, 2016
Ayesha Curry is wife/girlfriend goals...... Seriously. Not even looks (she fine as hell though) but how she carries herself — Haboosie (@_Duhwayne_) March 9, 2016
Chrissy Teigen even warned Ayesha.
@ayeshacurry girl I hope you have security because every man tryin to get them a you today hahahahah — christine teigen (@chrissyteigen) March 9, 2016
Sure enough, the backlash to the backlash came, too.
Most of y'all prolly already had an Ayesha Curry, but ya'll did her wrong instead of realizing, and she moved on. — MetroBloomin (@JayySinatra) March 9, 2016
There are people sitting on the sidelines and just laughing at the action.
When Ayesha Curry gets on Twitter and sees her name everywhere but doesn't know why pic.twitter.com/wEppcPRdCF — Kar L. Stine (@karyewest) March 9, 2016
Looking at these Ayesha Curry takes like: pic.twitter.com/yElaus8ys5 — RUSS BENGT$ON (@russbengtson) March 9, 2016
I love how "a Kim K" or "an Ayesha curry" is a thing now. Y'all have made these women into archetypes but don't know what they do privately — hennessy (@le_debut) March 9, 2016
But, there are also people who are making this real messy...
People get mad at Ayesha Curry for wanting to stay covered up for her man but praise Kim K for posting naked selfies to the Internet. — Angelena (@iam_angelena) March 8, 2016
Y'all bash Ayesha Curry but defend Kim K, how does that work — Paris (@pvrisgold) March 9, 2016
...and others who are just done pulling punches.
Yikes, someone bring us back to normalcy.
OK, we're good. All this, mind you, happened without Ayesha saying a word about Kim Kardashian West.
Too bad we all can't get Curry's true opinion on the matter.
Regardless of if you like my "style of clothes" or not (which I don't care) please do not tear women down and degrade them... Not cool peeps — Ayesha Curry (@ayeshacurry) December 6, 2015
Yup, too bad, indeed.