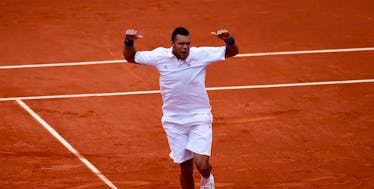 Elite Tennis Preview: Jo-Willy Tsonga Primed For A Run In Buenos Aires
Getty Images
Frenchie, man, the f*ck happened, my dude?
I swear I didn't sleep Monday night after the Tiafoe match. First set was a joy: a tiebagel in the first breaker. Second set, eh, he dropped the tiebreak after being up a mini at 4-2. Then, jeez, that third set.
After going up a break, he had three break points to try and secure the double break -- and essentially the match -- and squandered all of them, before dropping his serve at 5-4, to stay in the match.
It was a really disappointing match, altogether. Not merely for our bet's sake; I just really wanted to see another round out of the American teen. His forehand -- or should I say fearhand -- had a ton of life on it for the better portion of the match, but as the night progressed, the youngster's fitness, or lack thereof, began to show. By the middle part of that third set, he just looked gassed.
Fair play to Harrison though -- that kid could use some good fortune.
Generally speaking, we didn't really have a great start to the week. That's on me. I'm not one to make excuses for these picks, but Gaba definitely should've taken the second set off Mahut. Had he done that, I definitely would've fancied his chances in the third.
As for Paire? He's dead to me. At least in a betting sense. Thankfully, Berankis and Dzhumur produced some nice winners at good value so it wasn't all bad. We can certainly right the ship and stack some chips before it's all said and done this week.
Tonight we see some big names in Argentina, although why they're there is actually rather confusing, really. Instead of playing a hard tournament, which would essentially be a home game for Big John, Isner decided to pack his bags and begin his clay season in Buenos Aires.
Likewise, instead of playing on his surface of choice -- presumably in Rotterdam, at a 500-level event -- Jo-Willy decided to embark on a clay venture, and we see him in action on the red stuff as well tonight in Argentina.
And while I don't love the odds of trying Isman -- at ½ odds -- on his first clay match of the season, Tsonga, on the other hand, is rather enticing (at a cheaper price).
Elsewhere, Nishikori plays a primetime match, stateside, in Memphis. And in my sleeper special, Ćorić squares off against Gaël Monfils, and I really think he's got the tools to pound away at La Monf and sneak a victory in what is a wide open draw over in Rotterdam.
Season totals: 29-23 (56%) +4.53 units 
Tsonga -165 over Mayer
Weird line, this. I suppose I can see where Layers are coming from, though: Jo in his first clay match of the season facing a player on his surface of choice.
Still, it's not like Leo Mayer has been torching the red stuff thus far this season; he's played one match -- and got washed in the first set by Guido f*ckin' Pella. Am I looking at this match thinking Mayer stands no shot of upsetting Tsonga? Of course not.
But do I feel confident enough in Jo's form, right now, to back him at a cheap price against a player of much lesser class? You betcha.
Stretching back to 2012, Jo-Willy has only exited from TWO clay tournaments in the first round: Barcelona, last year, against Granollers and 2013 in Rome, at the hands of Janowicz. Keep in mind, Tsonga was also a match away from making the French Open final last year, if not for the man who would go on to ultimately win the tournament, Stan Wawrinka.
Back Jo tonight, and if Leo Mayer can somehow steal the match, tip your cap.
Prediction: Tsonga in two (7-5, 6-3)
Kukushkin -107 over Kudla
Granted, Kudla -- the World No. 59 -- is ranked significantly higher than Kukushkin, sitting at 93, I still feel as though the Kazakh should be favored here.
Aside from Kudla's rise to prominence last summer -- between Wimbledon and Montreal -- he really hasn't shown much consistency at the Tour level, including a straight set defeat at last year's US Open to the likes of Jurgen Melzer (Kudla was a -250 favorite).
Kukushkin, on the other hand, took down Dimitrov at the Open last year and, in my opinion, has been a much more consistent player, despite their rankings.
Kudla is a free swinger, and if he doesn't play a super tidy match, his errors have the tendency to rack up throughout matches. Kukushkin has great strokes from the baseline and a strong enough serve to hold his own against Kudla, who really relies on his heart and tenacity -- rather than his technique -- to keep himself in matches.
At favorable odds, I look for Kush to smoke the American Kudla in his own place.
Prediction: Kukushkin in two (6-4, 6-4)
Baghdatis -145 over Klizan
If you follow me on Twitter, you'd know I backed Baggy last round at +175 against Goffin.
In my opinion, the two matched up considerably well: Goffin being a predominantly defensive player, while Baghdatis looks to assert himself on the offensive side of things. Ultimately, it was Baggy who prevailed -- after going down 2-5 in the decisive tiebreak -- and finds himself with a relatively wide open draw ahead of him.
Early tomorrow morning, he'll meet the Slovak, Martin Klizan, with a trip to the quarterfinals at stake -- a feat he achieved twice in his career at Rotterdam, a tournament he's enjoyed much success at over the years.
Again, similar to Goffin, I don't believe Klizan has enough firepower to test a motivated Baggy, such as we're seeing so far this season. He's slimmed down, he looks hungry (in a good way), and he's been playing some really good tennis for the past year and a half -- enough for me to back him tonight at -145 odds.
Like I've mentioned, this Rotterdam draw is anyone's for the taking right now, and – with Gasquet withdrawing – it might be a tournament that the Cypriot has his eyes on stealing. It would certainly provide his ranking with a well-deserved boost.
Back to the Baggy well, we go.
Prediction: Baghdatis in three (7-6, 4-6, 6-2)