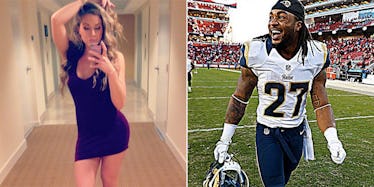 St. Louis Rams Player Tre Mason Gets Called Out By His Side Chick
Instagram
With the talent comes the money. And with the money comes the ladies.
NFL players (and all professional athletes) are always getting caught up in some dysfunctional sh*t when it comes to relationships, and in most cases, it all starts with a side chick who can't know her role.
With all the time these guys spend on the road with women throwing themselves at them, being faithful is pretty much impossible. St. Louis Rams running back Tre Mason is currently learning that the hard way.
Tre Mason is one of the best running backs in the NFC West.
His side chick, Meagan, probably doesn't even know that.
She does know how to get down, though!
It all started when she put Tre on blast via Twitter recently.
Tre & I hung out allll day the other day & talked about how we shouldn't talk lol — Meagan Better (@MeagMarci) March 17, 2015
He also helped pick & filter my last selfie s/o to him — Meagan Better (@MeagMarci) March 17, 2015
This is the selfie he helped her pick!
Tre responded before immediately deleting his tweet.
That's because he has a long-term girl named Natasha and loves her a lot.
Still, Meagan wants everybody to know the truth. Especially Natasha.
I guess even she knows what she's really doing then...
Since you don't understand let him explain.... HA pic.twitter.com/g8fcABznJG — Meagan Better (@MeagMarci) March 17, 2015
But FOH, Tre isn't going to let this woman ruin his life.
Happy with the decisions I made with my family, my woman, and football #GODISGREAT — Tre Mason (@TreMason) March 18, 2015
No one's saying he's faithful, but this man still has a job to do.
Looks like she'll have to choose a filter by herself from now on.