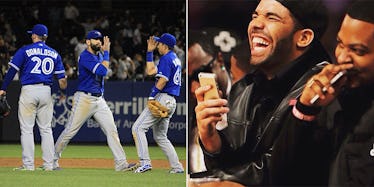 The Blue Jays Have One Person To Thank For Their Hot Streak: Drake
Facebook/Instagram
This past weekend, the Toronto Blue Jays swept the New York Yankees for the first time in 12 years.
And not only did the Jays win all three games in the Bronx, but they held the American League's second-best offense to just one run for the entire series.
Following the sweep, Toronto find themselves just a game and a half back of New York for first place in the AL East, with the pair set to lock horns again this coming weekend in Toronto.
Now, from the casual baseball fan to the most ardent Blue Jays supporter, the general consensus is probably that Toronto's recent hot streak has something to do with the acquisitions of pitcher David Price and shortstop Troy Tulowitzki.
On July 28, Toronto acquired Tulowitzki from Colorado; two days later, they gave Detroit three pitchers in exchange for starter David Price.
Since July 30, the Blue Jays have gone 10-1 and are firmly in position to make a run at their first playoff berth since winning back-to-back World Series championships in 1992 and 1993.
But, I have another theory for why the Blue Jays have gotten so hot recently: Drake.
On July 21, Meek Mill called out Drake after learning that the Toronto native didn't write his own rap on "R.I.C.O.," a collaborative track between Drake and Meek on Meek's latest album, "Dreams Worth More Than Money."
Stop comparing drake to me too.... He don't write his own raps! That's why he ain't tweet my album because we found out! — Meek Mill (@MeekMill) July 22, 2015
He ain't even write that verse on my album and if I woulda knew I woulda took it off my album..... I don't trick my fans! Lol — Meek Mill (@MeekMill) July 22, 2015
Music industry big-timers like Rick Ross and Lupe Fiasco weighed in on the entire issue of ghostwriting, and Drake finally responded on July 25 by dropping a Meek Mill diss track, "Charged Up."
Drake went in, saying,
Done doing favors for people 'cause it ain't like I need the money I make off a feature. I see you n*ggas having trouble going gold, turning into some so and sos that no one knows.
That same day, the Blue Jays scored two runs in the eighth and another two in the ninth to complete a comeback win over the Mariners in Seattle.
FINAL: @BlueJays 8, Mariners 6. #ComeTogether — Toronto Blue Jays (@BlueJays) July 25, 2015
Bear in mind, the team was yet to make moves for Tulowitzki and Price.
Three days later, before Meek even responded with a diss track of his own, Drake went in even harder with another song aimed at Meek, "Back to Back."
Toronto's favorite son rapped,
You love her, then you gotta give the world to her. Is that a world tour or your girl's tour? I know that you gotta be a thug for her. This ain't what she meant when she told you to 'open up' more.
The song, which Drake released on the same day Tulowitzki was dealt to the Blue Jays, is, of course, in reference to Toronto's back to back World Series titles in 1992 and 1993.
The track's Soundcloud artwork even features an iconic image of Blue Jays legend Joe Carter celebrating his World Series-winning homer against the Phillies in 1993.
And that detail didn't go unnoticed by the current crop of Blue Jays. Pitcher Marcus Stroman tweeted a picture of the "Back to Back" artwork and used the word "inspiring" in reference to Drake's track.
Back to back. @Drake X @BlueJays. This is inspiring. @JoeCarter_29 the man! pic.twitter.com/UoOR8tbcKe — Marcus Stroman (@MStrooo6) July 29, 2015
Hell, even Joe Carter himself couldn't contain his excitement over being chosen to represent Toronto and Drake.
I have officially made it now!!! Thanks to my man @drake. I'm honored bro. #BackToBack. pic.twitter.com/TH8VLuPAMQ — Joe Carter (@JoeCarter_29) July 29, 2015
Ironically enough, the Blue Jays lost their game against the Phillies that same night, July 28, but the team was inspired to go on a run of their own..
Since that loss to Philly, Toronto is 11-1, and although Meek Mill finally responded with "Wanna Know," that sh*t hit about as hard as the Yankees did this past weekend.
Now, Drake and the Blue Jays are waking up this morning like:
Baseball purists will undoubtedly argue that Price and Tulowitzki are the main catalysts behind Toronto's recent surge, but it takes an entire team to be inspired to find success in October.
If the Blue Jays stay hot and make the postseason, you can bet Drake will have tickets waiting for him at Rogers Centre Will Call.
Citations: Meek Mill vs. Drake: A Full Timeline of the Rap Beef & Who Weighed In (Billboard), Schedule (Toronto Bluejays), Transactions (Toronto Bluejays)