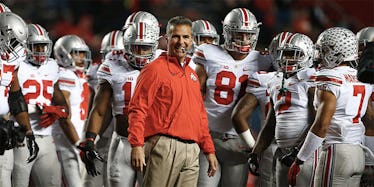 The Top 25 College Football Teams For The 2016-17 Season
Getty Images
College football has gotten better and better since the playoff has been made, and the 2015 season was better than the last.
Close games, blow outs, phenomenal single player performances and upsets made everyone put their hands on their heads and their eyes as big as dinner plates.
In my mind, as well as other college football enthusiasts, football season never ends.
Instead, the months from January to August will be spent watching old football games, signing day and spring games to fill our heads with the possibilities of our team making a run for the 2017 national championship.
This is an early list of next season's top 25, and in my opinion, the greatest season any of us will witness:
1. Alabama
The reigning national champion/dynasty will stay no. 1 entering next season.
Despite the departures of Derrick Henry, Kenyan Drake, Jake Coker, Kelly Ryan and possibly nine other starters on defense, the Tide have many mature and well-poised freshman and underclassmen ready to take the reigns.
They're sure to continue the excellence Nick Saban has laid out in front of them.
2. Clemson
Yout is on the side of Clemson.
This is a team that went toe-to-toe with Alabama with a bunch of well developed freshmen and impact player, Deshaun Watson.
Clemson will be number two to enter next season, and they will have one goal on their mind: FINISH.
3. Stanford
The cardinal started out rough, but with the emergence of Christian McCaffrey, they salvaged what was going to be a lost season.
With the beat down of Iowa in the Rose Bowl, and the dominance the Cardinal have displayed, a number three ranking is what they deserve.
Staying consistent, beating the teams they are supposed to beat and finding more innovative ways to get McCaffrey the ball should land them in the playoff.
4. Ohio State
The Buckeyes were upset by Michigan State. This is what they needed.
The Buckeyes dominated the rest of the Big 10, and won the Fiesta Bowl by handling the Notre Dame Fighting Irish, who felt like they should have been the team in the playoff.
Although the Buckeyes are losing Ezekiel Elliot, Joey Bosa and seven other impact players, they will find a way to become great again and be the Ohio State we remembered from 2014.
5. TCU
With a win over the fast paced Oregon team at the Alamo Bowl in what was perhaps the most exciting game of bowl season, TCU will enter next season at no. 5, and possibly a champion of the Big 12 if all plays out right.
What will keep TCU's playoff and big 12 champion hopes alive is finding a replacement for Trevone Boykin.
If they can do that, TCU can find their way into the playoff, and possibly shock the world by becoming champions.
6. Houston
Never would one think that Houston would be in the top 10, let alone ranked.
Case Keenum's magical run and the obscene numbers he put up will not be forgotten, however, Greg Ward will keep them relevant for at least another year.
The selflessness of this team is what led them to the top 10, and the selflessness of this team is what will keep them there.
7. Oklahoma
The Sooners played the best football out of anyone during the regular season, but unfortunately for them, they were stopped in their tracks by Clemson.
The Sooners finally began playing for each other, not as individuals, and for this they will be at number seven. The Sooners are losing a host of talent, but there's that much more awaiting in the trenches.
OU has the most potential out of any team so far listed, do not be surprised to see them in a national championship game as early as next season.
8. Ole Miss
As the only team to give Alabama its one loss of the season, Ole Miss is a solid team with a lot of big play makers.
The number they put on Oklahoma State at the Sugar Bowl is an early taste of what they can do -- with or without all of their starters.
9. Michigan
A heart breaking loss to Michigan State, an embarrassing loss to Ohio State, and an early loss to Utah made it a roller coaster season for the wolverines.
But they will enter next season as number nine, after putting a beating on the SEC's Florida Gators.
Michigan will be a team to watch, and a game to watch will be when they head to East Lansing to get revenge of last years last second blocked punt.
10. Iowa
Dropping their last two games of the season will knock Iowa down to round out the top 10.
The Hawkeyes had a memorable year -- 10-0 at one point -- and next season it will be interesting to see if they can rebound and return back to the Big 10 championship next season.
11. LSU
For LSU to be a top five team, they will need a quarterback and two threatening receivers.
Derrius Guice and Leonard Fournette can only carry a team so far. A number 11 ranking is a fitting place for the Bayou Bengals to enter next season.
12. Baylor
This high tempo speedy Big 12 team is a little inconsistent, but is extremely fun to watch.
With a stable quarterback, Baylor can make a run for a New Year's Six game or even a playoff birth.
13. Michigan State
The year 2015 was a great time to be a Spartan, and they headed into the playoff before a beat down by the Crimson Tide.
Michigan State is a team of gamers, but gamers can only take you so far.
14. Utah
Utah had some bumps, but the end result -- a 10-3 record and Las Vegas bowl win -- went in their favor.
The Utes aren't a championship caliber team; just a good team at best. Number 14 is a good place to be if you're Utah.
15. Wisconsin
The Badgers are always a threat, no matter who they play, or where they play. Wisconsin will determine their own fate with at number 15.
But their power running game isn't likely to be enough to win a Big 10 championship.
16. Navy
Navy had one of their best seasons; finishing in the top 25 was a huge accomplishment.
The Midshipmen will hold their top 20 ranking and will finish even better in 2016.
17. Tennessee
Arguably the most exciting team this season, the Volunteers have a lot of potential, if they learn how to finish and be consistent, there isn't any doubt they can be in the SEC Championship by seasons end.
Jalen Hurd and Alvin Karmara are going to be key components next season.
18. Oklahoma State
They were 10-0, then 10-3 before you knew it.
Oklahoma State was one of the best young teams in the nation last year, but the complacency bug bit, and it bit hard.
With Mason Rudolph, James Washington, and a host of other retuning talent, Oklahoma State can make a serious push and beat the expectations and goals they had for this past year's record setting team.
19. Notre Dame
The Fighting Irish are always a fun team to watch, but a disappointing end to last season will knock them down for next season.
Notre Dame will have to fight for the respect of a higher ranking.
20. USC
The Trojans were once America's favorite team, but as of late, those memorable years feel like they were centuries ago.
SC can get back on top once they find consistent coaching.
On the field, Ronald Jones and Adoree' Jackson are names you may want to write down and remember.
21. UCLA
All the hype of a top recruiting class and all the hype of a potential playoff run was washed away by an 8-5 record and an embarrassing showing against Nebraska in San Francisco.
Still, UCLA has Josh Rosen, a soon-to-be 1st round draft pick at quarterback, Soso Jamabo, Nate Starks, Thomas Duarte and nine other starters returning on defense.
UCLA are right where they need to be.
They have a perfect chance to sneak up and shock they nation this next season.
22. Oregon
The ducks are in the middle of finding who they are again.
New coaches, new quarterback, new plays; all of these factor into Oregon's 22 ranking here.
The Ducks are a constant threat with their high-flying offense, but it is defense that is their Achilles heel.
Oregon will shock people next season, but ultimately prove us all right by not going to the playoff or Pac-12 Championship.
23. North Carolina
North Carolina had a great season, but that magic will end there. UNC will not be in the ACC Championship game again for a while.
24. Florida State
Florida State is and always will be a threat.
The Seminoles return a host of talent, and in that talent, they return Dalvin Cook.
Dalvin will continue to lead the seminoles to brighter pastures. After a bitter end against Houston, look for the 'Noles to rebound in a big way.
25. Western Kentucky
WKU is a silent assassin and they will continue to be that next season.
WKU rounds out the top 25.