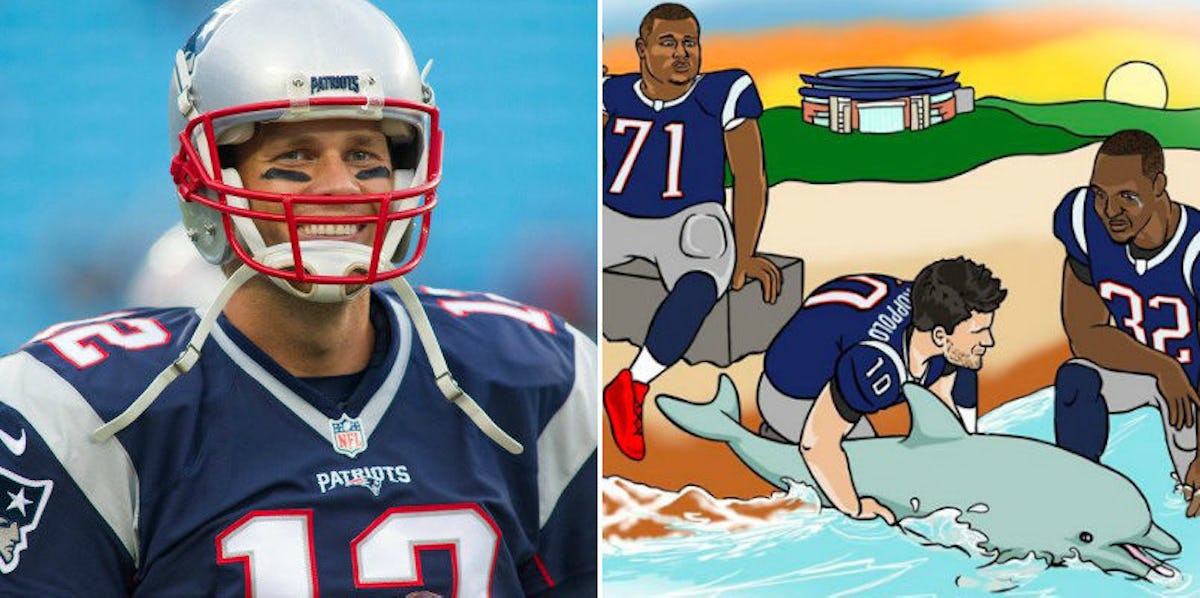 Tom Brady Just Roasted The Miami Dolphins With A Savage Facebook Post
USA TODAY Sports/Facebook
Despite the fact their four-time Super Bowl champion quarterback is suspended for the first four games of the NFL season, the New England Patriots currently find themselves with a 2-0 record, yet to lose a game.
Tom Brady's replacement, Jimmy Garoppolo, has been pretty stellar up to this point, and despite the fact he left Sunday's game against the Miami Dolphins with an injury, the Patriots were still able to get the win.
If Garoppolo's injury is serious, and he can't play this coming Thursday when New England welcomes the Houston Texans to town, rookie Jacoby Brissett will have to take over under center.
That's a scary prospect for Pats fans, but one dude who doesn't appear to be nervous is Tom Brady himself. I say this because following New England's win, Brady posted a pretty savage cartoon meme on Facebook.
In the above cartoon, Jimmy Garoppolo appears to be releasing a Dolphin into the water, while two of his Patriots teammates wave goodbye. The fake headline reads,
DOLPHINS SENT HOME
You might expect Tom Brady to be a nervous, anxious wreck while watching someone else play quarterback for a team he's led since 2001, but that just isn't the case.
Tom Brady's already served half of his Deflategate suspension, and something tells me if the Patriots beat the Texans on Thursday, we might just see a JJ Watt meme or two on Brady's social media accounts.
Citations: Tom Brady Trolls The Miami Dolphins From His Couch After The Patriots Sent Them Home Winless (Bro Bible)