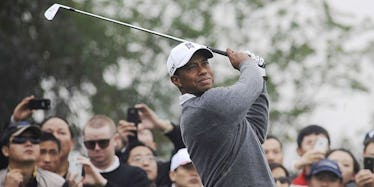 Tiger Woods Was Charged With A DUI And Twitter Is Freaking Out
Hong Wu/Getty Images
Tiger Woods was arrested and charged with a DUI in Jupiter, Florida, early Monday morning.
A Jupiter Police Department spokeswoman told People he was arrested around 3 am and taken to the Palm Beach County Jail.
According to the police blotter, Woods was released on his own recognizance at 10:50 am.
Police told TMZ Woods was stopped when he was spotted "driving erratically, all over the road." The cop smelled alcohol on his breath and Woods allegedly became "arrogant."
He reportedly refused the breathalyzer.
The arrest comes just days after the 41-year-old golfer, who has won 14 major championships, announced he underwent fusion surgery on his back about a month ago. In recent years, Woods has been plagued by back injuries.
Of this latest surgery, he wrote,
It was instant nerve relief. I haven't felt this good in years.
The question on everyone's mind, though, is if and when the record-breaking golfer will return to the sport, which he addressed, saying,
As for returning to competitive golf, the long-term prognosis is positive. My surgeon and physiotherapist say the operation was successful. It's just a matter of not screwing up and letting it fuse. I'm walking and doing my exercises, and taking my kids to and from school. All I can do is take it day by day. There's no hurry. But, I want to say unequivocally, I want to play professional golf again.
In the wake of this update on Woods' health, news of the arrest has, of course, sent shockwaves across the internet.
The reactions are mixed, but most are expressions of sadness and disappointment.
Some really just want him to get help.
It is the internet, though, so there are definitely jokes flying -- which is even sadder.
The truth is there is nothing funny about drinking and driving no matter who it is. Obviously Woods, who is a father of two, is no stranger to scandal but that doesn't make this arrest any less alarming.
Woods has yet to release a statement.
Citations: Tiger Woods Arrested on Suspicion of DUI in Florida (People)