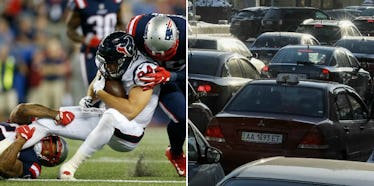 15 Things I'd Rather Do Than Watch The Patriots Embarrass The Texans
USA TODAY Sports/REUTERS
This weekend, there will be four Divisional Round playoff games across the NFL.
Three out of those four games should be exciting, close contests. One of them, however, will suck.
It's a guarantee.
Saturday night, January 14, the New England Patriots will welcome the Houston Texans to Gillette Stadium in the AFC Divisional Round, and I'd be shocked if the hosts didn't beat down their guests like Bob Barker did Adam Sandler in "Happy Gilmore."
Related: 15 Things Tougher Than Chicago Bears Quarterback Jay Cutler
At the moment, the Patriots are a 15-point favorite, and I'd argue that's being generous to the Texans.
You might recall the fact these two teams already played each other this season, on September 22 in New England.
The Patriots won by a final score of 27-0.
Want to know the worst part? Tom Brady, New England's three-time Super Bowl MVP quarterback, didn't even play that day.
Jacoby Brissett shut out the Texans.
For the rematch this Saturday, Brady will be under center for the Patriots. You know who's quarterbacking for the Texans?
Brock fucking Osweiler.
This game is going to be a dumpster fire. You know it; I know it; hell, the Texans even know it.
Plus, this game doesn't even start until 8:15 pm on the East Coast.
I don't know about you, but I'm not wasting my Saturday night watching the Texans get on their knees for the Patriots.
Seriously, though, even if this game started at 1 pm on a Sunday, I still wouldn't watch.
Like, I'd rather fold laundry than watch the Patriots demolish the Texans.
So, going off that logic, here are 15 ridiculous things I'd rather do than watch the New England Patriots plow the Houston Texans.
1. Stand in line at the DMV
2. Go to work on the weekend
3. Sit in bumper-to-bumper traffic for four hours
4. Help my parents clean out the attic
5. Have dinner with my girlfriend's parents
6. Hang out with my girlfriend's friends
7. Taxes
8. Eat a raw kale salad with dressing on the side
9. Spend the day with Justin Bieber
10. Listen to every Donald Trump speech and press conference, ever
11. Be designated driver for my drunk asshole friends
12. Spend all my money on an overpriced birthday brunch that's not even bottomless
13. Call my parents
14. Go to the doctor for "blood work"
15. Get stuck in an elevator with terrible people