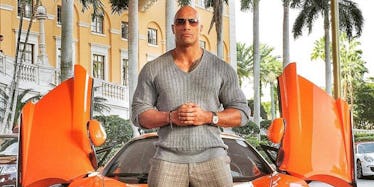 The Rock Flawlessly Hitting 'The Quan' Is The Perfect Weekend Kickstart
Facebook
The Rock is no stranger to being an Instagram celebrity. From playing with his pups to working out like a beast, the guy just knows how to use 15-second videos like a boss.
His latest piece of awesomeness on Instagram is a post-workout video he made after crushing his cardio routine.
We all know how hard it is to get through 45 (make that 15) minutes of cardio, right?
In this video, The Rock nails a number of dance moves, including a flawless execution of "The Quan."
You don't need me to say anymore, though, just kick off your weekend by watching The Rock be an overall awesome individual.
He's got moves for days.
Citations: therock (Instagram)