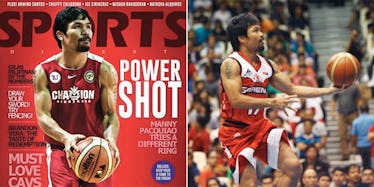 The History Of Pacquiao's Hilariously Bad Professional Basketball Career
Facebook
When Manny Pacquiao steps in the ring to face Floyd Mayweather, Jr. on Saturday night, he will be fighting in a match that deserves its title: The Fight of the Century.
And Pacquiao has earned his place there, too, having been named Fighter of the Decade for the 2000s, the Filipino southpaw has always been the one who could even come close to matching Mayweather.
Yes, he's great at what he does, but contrary to what we've come to expect from great athletes in regard to their relationships with sports -- "X sport is my life!" -- Pacquiao made himself a man of many trades.
The pride of General Santos City is not only a fighter. Among other things, he's a philanthropist, businessman, politician and singer.
When it comes to pure comedy, though, his existence as a professional basketball player just edges out his career as a vocalist as the most hilarious venture he's taken on in life.
Simply put, his basketball career is to die (laughing) for and it's so worth revisiting.
Here is the hilarious history of Manny Pacquiao's failed basketball career:
Manny Pacquiao has been boxing since he was a teenager.
But he's said in many interviews that basketball is his first love.
One of his favorite jokes, in his litany of corny ones, is that he was tricked into signing his first boxing contract when he thought it was for basketball.
For a long time, though, it's been evident he keeps the game close to his heart.
He's gotten to chill with the Boston Celtics' Big 3...
And other big NBA stars...
And when he visited Golden State, he showed he's a warrior on the court.
In fact, the biggest fight of them all is happening thanks to Pacquiao and Mayweather settling their differences at a basketball game.
But he's is more than just a fan. After all, he has a few of his own.
Last year, the Filipino fighter became the coach of Kia Sorento basketball team back in his home country.
He wanted to play, too, but could only do so after entering the league's draft, during which he was selected with the 11th pick.
Boxing Champ Manny Pacquiao Picked by His Own Team in PBA Draft http://t.co/ZpCdtU7B4e pic.twitter.com/rtiJWF6AEa — Hoopsfix (@Hoopsfix) August 27, 2014
After taking care of that small technicality, he was soon able to make his debut.
Despite the hype surrounding his debut, though, it didn't go as planned.
LOL at Manny Pacquiao attempting to be a player-coach in the Philippine Basketball Association. 2 TOs, 0 points. pic.twitter.com/ksSfx7mzWG — Sense (@DJMarcSense) October 20, 2014
Yeah, he laid a goose egg, but it's all good! He was comforted by his friend Yao Ming, who did the same thing during his own debut.
Besides, he's never been afraid to be embarrassed.
Not everyone was a fan, though.
Kentucky product and former Pure Foods Hotshots player Daniel Orton had this to say after he faced Pacquiao and Kia Sorento:
Professional boxer? Yeah. Congressman? All right. But professional basketball player? Seriously? It's a joke.
Soon, this is what happened to him:
Former first round pick kicked out of Filipino league for insulting Manny Pacquiao. http://t.co/GLki61dCCc pic.twitter.com/YUP9xDpLzW — Sporting News (@sportingnews) February 24, 2015
An executive of Orton's former team compared criticizing Pacquiao to slandering Dr. Martin Luther King, Jr. Obviously, Orton had to apologize for the grave mistake.
I thank God for my time in the Philippines and thank Purefoods for everything. I wish the team the best of luck this conference!! God Bless! — Daniel Orton (@D_Orton33) February 23, 2015
His trainers and promoters don't like the idea of him playing either, but he ain't worried 'bout nothin'.
Besides, he says it helps him be a better fighter.
Pacquiao said,
Cross training with sports like basketball and its cutting moves help your strength and balance in your body
It looks like Pacquiao is dead set on remaining a basketball player, no matter how much he fails to impress... or how bad his jump shot gets.
He even pays players to participate in his charity games, which explains why they let him score with ease.
Now, that's dedication!
As a matter of fact, we might've been trying to get these two in the wrong arena the whole time.
Alas, it seems Manny Pacquiao's basketball career is over. After all, he has to focus on his true moneymaker.
Pacquiao Gives Up Basketball to Focus on Mayweather http://t.co/lhdbOnWgkg via @KelDansby pic.twitter.com/9AiAWCdkRJ — Robert Littal (@BSO) February 25, 2015