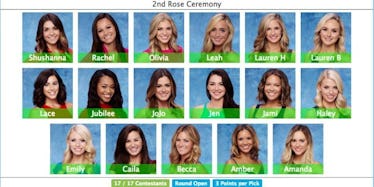 There's A Fantasy League For 'The Bachelor' And It's Changing The Game
Two Sundays ago, while I was just starting to get over my hangover at two in the afternoon, my girlfriend ran out of our apartment, mumbling something about going to a live fantasy draft for "The Bachelor."
At the time, I didn't think twice about it. Sh*t, I had the place to myself to watch both the Jets and Giants suffer disappointing losses while I stuffed my face with Seamless.
The following day, after enjoying a lovely dinner of leftover Seamless, I plopped myself on the couch, ready to get lost in whatever mindless nonsense I could find without Monday Night Football available.
Then, a few minutes before 8 pm, my girlfriend ran into the living room like a freight train with broken breaks. She snatched the remote control from my hand and turned on ABC.
"What the f*ck?," I said. "What?," she responded. "I told you, 'The Bachelor' season premiere is tonight."
Suddenly, Sunday afternoon hit me like a ton of bricks. It all made sense now.
For this season of "The Bachelor," my girl and her friends are competing in a fantasy league where each participant selects the contestants they think will last the longest on the show. Points are awarded each week for random events, and the last person standing wins.
"Hilarious," I thought. I fill out numerous March Madness brackets every year. I play fantasy football with friends and daily fantasy sports with strangers. But I never imagined the fantasy/bracket format could be integrated with a reality television show like "The Bachelor."
Integrated? It's a perfect match.
Allison Burn is the operator of TheBachelorBracket.com. She and her fiancé, Dan Anton, purchased the website for $12,000 this past August from another couple who share a passion for the ABC hit show.
With regards to how the site was created, Burn told Elite Daily,
They started it because they were getting together with groups of friends to watch 'The Bachelor,' and they found themselves creating their own little brackets on paper. Once they realized they were getting really into it, [the husband, a software developer] started coding for the website and created it. I think they created it in 2013, and they were managing it until August of 2015 when we bought it from them.
If you're a fan of the show, which is now in its 20th season, this probably sounds like a familiar scene: You and your friends getting together, or speaking via group text, to watch a group of women battle it out to be the last one standing and win the heart of the dreamy bachelor.
After watching the Season 20 premiere, it's hard to argue with the show's entertainment value. I knew nothing about Ben Higgins, this season's bachelor, or any of the 28 women who were competing for his affection, but I suddenly wanted to.
Off to New York! Thanks a ton #BachelorNation I am so excited to share this story with you all. Let's Gooo! pic.twitter.com/t6n8mxO7aV — Benjamin Higgins (@benhiggi) August 25, 2015
And I could only imagine my excitement if I had filled out a bracket on Burn's website.
From season-long brackets, like your regular fantasy football league, to week-to-week games, similar to DraftKings or FanDuel, "The Bachelor" Bracket offers a variety of different games fans can play during the course of any given show season.
Burn told Elite Daily,
You can join a league or create your own if you have a group of people you want to play with. You can make it private or public. Once you do that, then you go on to create your bracket. We have three different options. One of them is just a standard game where people go on before the first episode, before they get any taste of the personalities, and just go off pictures and simple biographies of what each girl is like. They use that info to pick their brackets for the entire season. Another type is the 'After The First Rose' game, and that's where you get to see a taste of everyone's personalities from the first episode and create your bracket for the season before the second episode. And the last game we offer is a week-to-week, where people just go on every week and update their brackets before the episode airs on Monday.
One of the main components and incentives of playing fantasy sports is the potential for cash winnings. If you play in a fantasy football league with your friends, you probably throw in $20 to make the season more interesting. If you compete on regulated sites like DraftKings and FanDuel, there's a hell of a lot more money in play.
This is something I couldn't help but think about with regards to competing in a fantasy league for "The Bachelor," but Burn was quick to stomp out any notion of organized payouts.
The 25-year-old told Elite Daily,
We're not playing for money, we're just playing for fun. And if people want to have their private leagues and play for a little bit of money or a bottle of wine, then that's totally up to them. There are these spoiler websites that would, if you're playing for money, make it a completely unfair playing ground.
Burn also shared why she believes "The Bachelor" is such an ideal show to dedicate an entire fantasy website to in the first place.
She told Elite Daily,
I think women have been missing out. Not all women are enjoying sporting events, and it's actually a show -- no matter how silly people think it is -- that brings people together, whether you think it's all for love or it's just purely for entertainment purposes. I think that's the base of how it got started and why it's so successful.
Successful is a bit of an understatement. Burn and Anton only began promoting the site a few months ago. Using a combination of ads, press releases, Facebook and Twitter, TheBachelorBracket.com generated more traffic for the first episode of this season than it had in its entire existence.
Servers upgraded and stabilized to handle all the traffic! Very sorry for the inconvenience! Extending your time...brackets lock at 8:45 EST — The Bachelor Bracket (@BachBracket) January 12, 2016
Allison Burn spoke with Elite Daily the day after the second episode of Season 20 aired, saying,
As of just a few minutes ago, there were 127,322 [users]. We have 24,251 leagues and 178,125 brackets. A week ago, the amount of users was 68,533. It's grown a lot since just the first episode.
It looks like one of those 120,000-plus users is Ashton Kutcher, who is clearly a big fan.
How did I not know about this during last season? http://t.co/p6hWbASM3D — ashton kutcher (@aplusk) April 21, 2015
The main reason for the success of "The Bachelor" fantasy leagues like Burn's is their ability to make the show more exciting than ever for viewers. You're no longer just interested in who gets a rose, now you're sitting on the edge of your seat rooting your heart out for your bracket picks to get one.
Brooke Tobia, a senior at Penn State University, has always watched "The Bachelor" with her friends at school. Now, they all play together in a fantasy league on Burn and Anton's website. It's safe to say the weekly routine has changed a bit.
Tobia told Elite Daily,
When I was picking who would go onto the next round, I almost felt like I was in Ben's position. At this point in the show, how could he possibly know who he wants to keep so far? He basically had five minutes to talk to each of them. It was interesting for me, because I didn't know who to pick. I barely know this girl.
Admittedly, I'm not a fan of "The Bachelor." But if I have to spend the next few Mondays watching this show, you better believe I'm going to have a few brackets in play.