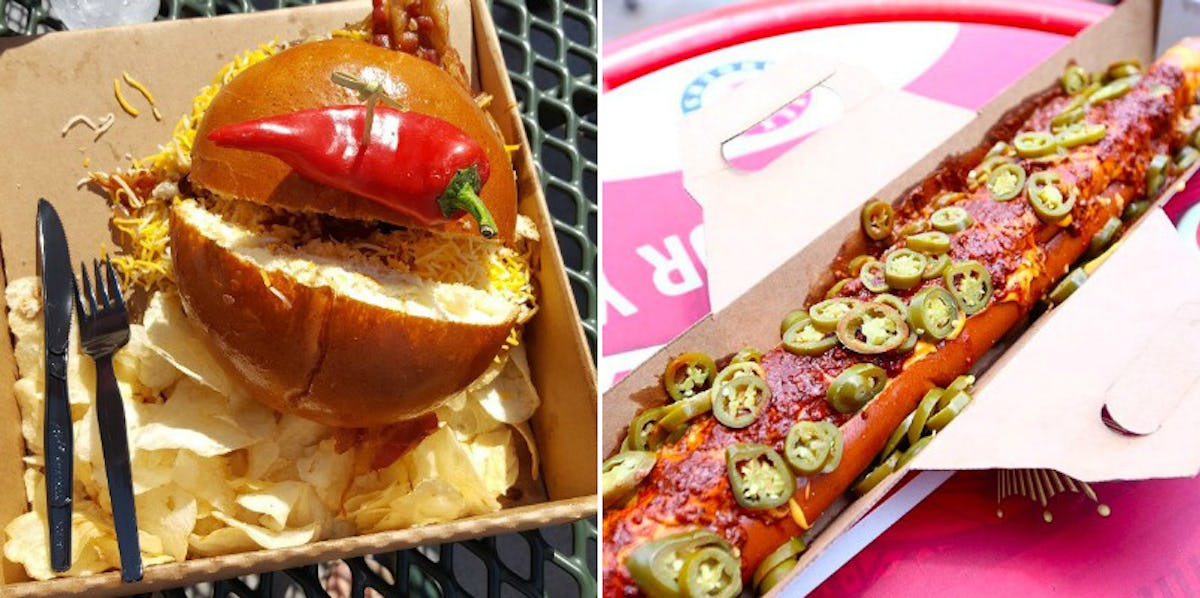 You'll Have A Heart Attack Just Looking At The Texas Rangers' Playoff Eats
Instagram
It's finally October, which only means one thing: Playoff baseball is here.
On Tuesday night, the 2016 MLB postseason will get underway when the Toronto Blue Jays host the Baltimore Orioles in the American League Wild Card game.
The winner of that game will travel to Arlington, where they will take on the Texas Rangers in the divisional round on Thursday.
If you happen to be heading out to Globe Life Park in Arlington, then you're in for a real, um, treat. See, in celebration of this year's postseason, the Texas Rangers are rolling out a special food menu just for October.
Thanks to ESPN's Darren Rovell, we know exactly what these heart attack-inducing treats will look like and cost.
First up to bat is The Atomic Burger: a 2-pound cheeseburger with insanely spicy cheese sauce.
If $27 is a little too steep for you, then you might want to go The Popcornopolis Pita route. This has to be viewed as a giant insult to Greek cuisine and culture.
According to Rovell, this monstrosity is smoked brisket, mac and cheese and caramel popcorn stuffed into a pita.
Who came up with this menu, Harold and Kumar? Seriously. If this doesn't scream "terrible stoner food," I don't know what does.
If you're a Texas Rangers fan, I'm sure you're going to be so thrilled when you wake up on Friday morning and realize a mud slide just occurred in your bed.
Although, you can only be upset if you survived the heart attack you suffered in the middle of the night.
In addition to The Atomic Burger and The Popcornopolis Pita, it appears that Globe Life Park attendees will also be able to get their hands on The N.E.Q. Sandwich  – an unholy version of a Philly cheesesteak – and The TamArlington Dog, which is a hot dog topped with chili and cheese.
Excuse me while I go eat raw kale out of a bag in the produce aisle.
Citations: Rangers Introduce Crazy Stadium Foods for Postseason (Busted Coverage)