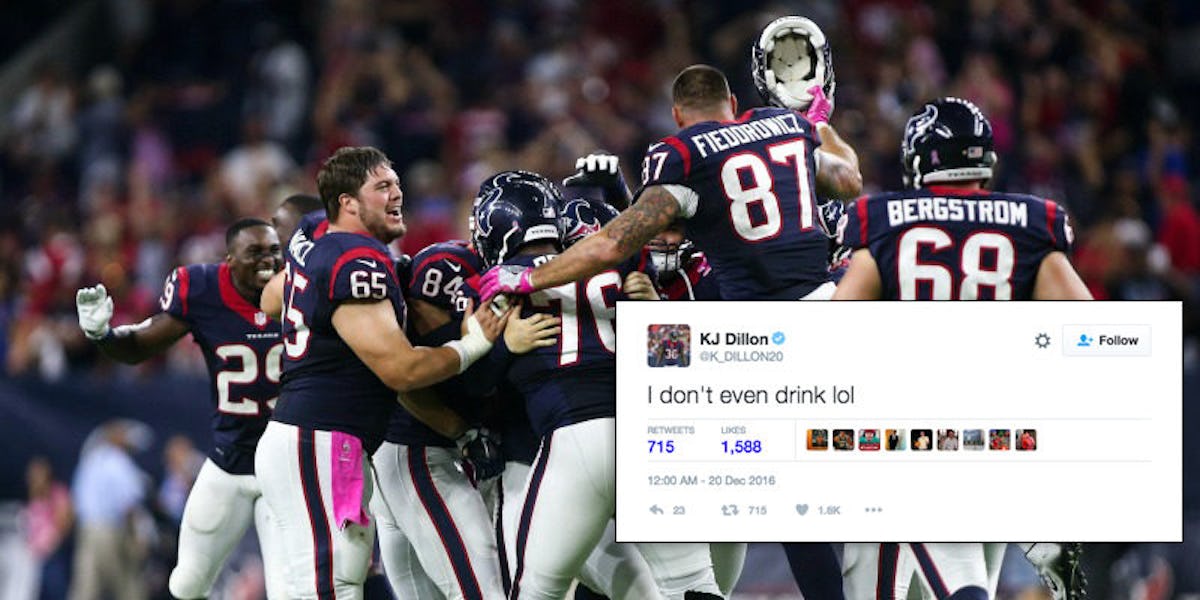 Sober NFL Rookie Shares Pic Of Outrageous Bar Bill His Teammates Left Him With
USA TODAY Sports/Twitter
Look, I understand the whole concept of rookie "hazing" in the NFL, but what several members of the Houston Texans recently did to safety KJ Dillon just ain't right.
Late Monday night, the 23-year-old West Virginia University alum tweeted a picture of an outrageous restaurant bill he was stuck with by his teammates.
Now, before I tell you just how much KJ Dillon had to shell out Monday night, I just want to inform you Dillon is reportedly making about $450,000 this year.
OK, are you ready?
Monday night, the Texans rookie got stuck with a $16,000 bill from Houston's Pappas Bros. Steakhouse. With tip, this comes to about $18,000.
For those of you wondering, this works out to be roughly 4 percent of Dillon's annual contract.
So, what exactly did Dillon and his Teammates order? Well, let's take a look.
The filet mignon was expensive, sure, but it pales in comparison to the 22 Hennessy Pardis Imperials that were ordered.
Holy hell, Texans!
Of the $16,255.20 bill, $7,700 went to Henny.
Hold on, though, because this gets so much better. After Dillon tweeted a picture of the $16k bill, folks on twitter started going in.
Someone asked Dillon who ordered the salad, and the sad rookie had a very sad response...
Bruh, you dropped nearly $20,000 and ordered a salad??? If I were KJ Dillon, I'd cry for at least two weeks.
BUT WAIT, IT GETS WORSE!!!
See, not only did Dillon order a measly salad from this obscene bill, he also didn't have a single drop of the liquor he shelled out thousands of dollars for.
Bruh, what? I'd have to drink my weight in alcohol just to hand over my credit card if I got stuck with this bill.
It appears the Texans rookie didn't want anyone to think he was trying to call out his teammates by tweeting a photo of the obscene bill, which is why he said this is pretty much a two-way street with the team veterans.
Then again, it looks like KJ Dillon isn't eating out for quite a while...
I bet, my dude!
Citations: KJ Dillion (Twitter), Texans Rookie Gets Stuck With A Big Bill At A Restaurant And Tweets It (Barstool Sports)