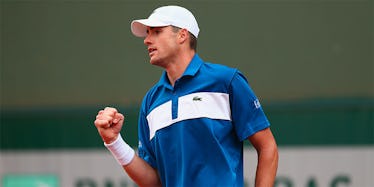 Elite Tennis Preview: Big John Isner Has A Chance Tonight In Melbourne
Getty Images
Despite going one for two last night, our scouting report was pretty spot on (and we still netted .6 units).
David Goffin was able to force Dom Thiem into making too many errors -- 61 of them, to be exact -- and won in four (despite some truly incredible shotmaking), while Kyrgios battled himself for much of the match, complaining to the umpire about somebody playing music in the crowd.
It was a pretty hysterical scene -- and, for better or worse, part of the reason I love NK so much -- but it surely wasn't good for us and whoever else was backing him. Guess we knew what we were signing up for coming into the match.
Tonight we have the second half of our third round matchups. The majority of them contain pretty big favorites who are too rich for my blood as straight bets, but could work nicely into some parlays. I think Raonic should skate past Troicki, despite having some trouble with him in the past, and I expect Ferru to be able to handle Stevie J.
As far as our dogs are concerned, there's a lot of bark -- but I don't see much bite happening tonight. I suppose Millman might stand a slim chance against fellow Aussie Tomic, but I certainly wouldn't hold my breath.
However, there are two reasonably priced favorites whom I have my eye on to get the job done tonight. Let's hope they're up to the task.
Season totals: 21-13 (62%) +8.30 units
Isner -200 over Lopez
Expect tiebreaks here, tonight.
While Big John Isner obviously has one of the biggest serves on tour, Feli ain't too shabby himself. I have a feeling service games should cruise along pretty quickly, without too many points -- probably until the tiebreaker.
Isner's been impressive, honestly, this tournament. The key to his first two matches was the fact that Isman pulled 'em out in straight sets, both times and didn't put too much mileage on his body going forward. Lopez, on the other hand, barely survived a five-set marathon against Guido Pella.
The two have played close matches in the past, Lopez and Isner, and both have three wins to their names, over the years. Their last match came on grass in London, at Queen's Club, where the match was decided by three tiebreaks -- with Isner prevailing in the decider.
Personally, I think Feli's serve has gotten worse since then -- as a result of his age -- and I think that if John focuses, he should be able to nick a few breaks off Lopez's serve.
Back the American Isner to serve his way into the fourth round.
Prediction: Isner in four (7-6, 6-4, 6-7, 7-6)
Kuznetsov -200 over Sela
Back to the Kuz well tonight, folks.
The Russian provided us with a nice winner the other day, against Chardy, and I think he'll be able to extend his run tonight against Israeli No. 1 Dudi Sela.
Kuznetsov has all the tools to get through Sela. While Verdasco certainly had the firepower to beat Sela in the previous round, Sela was able to grind it out and avoid making errors. Kuznetsov, on the other hand, is a much more consistent rallyer than Verdasco, and should be able to win a lot of the points that the Spaniard lost, on his own.
Sela doesn't really have much pop on his ground strokes, and -- if he doesn't get good length on his shots, during rallies -- I expect Kuznetsov to attack shots early with his backhand and be able to dictate points.
Add that to the Russian's strong first serve, and he will be very difficult for Sela to beat – even with the Eye of the Jew on his side. Kuznetsov is simply the better player tonight and I expect him to show his class on a big stage and advance thru to the fourth round.
Prediction: Kuznetsov in three (7-5, 6-4, 6-3)