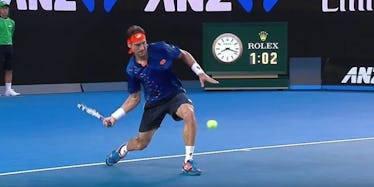 Elite Tennis Preview: Expect The Worst For Isner Against The Spanish No. 2
YouTube
Friday night was a good one, as Big John Isner pulled off a big win in four over Feliciano Lopez -- and Kuznetsov did the same against Dudi Sela.
After dropping the first set tiebreak against Feli, I had my doubts about the American's ability to survive a longer match, but he was able to enforce his will and win the next three sets. As for the Russian, he was impressive and simply played a cleaner match than the world No. 87.
Saturday night, we had a tough match in Kei and Tsonga, but -- for a flurry of reasons, no pun intended -- I chose not to post a preview for it. I wasn't overly confident in either side. Probably would have tipped the Frenchman, actually, so -- in the end -- I'm glad I didn't.
Tonight, by the time our NFL battles are fought and won, we'll find ourselves with a thrilling slate of fourth round tennis to test our luck in. At 10 pm, we see the beautiful backhand, world No. 4 Stan Wawrinka, battle it out against the Maple Missile, Milos Raonic.
And at sometime around 2:30 am, in the middle of the night, Little Bast Ferrer squares off against the likes of Big John.
Elsewhere, Monfils meets our guy Kuznetsov, and Murray and Tomic play the final match of the night. While neither of these matches really scream upset, you really can never rule out a Monfils stinker; and I've been getting some weird Tomic vibes too -- but I've thankfully been suppressing them on behalf of common sense.
Regardless, tonight should be a really high octane night.
Season totals: 23-13 (64%) +10.30 units
Raonic +148 over Wawrinka
Frankly, I'm quite looking forward to this match.
On the one hand, Milos Raonic has looked really, really impressive this season, thus far -- and, on the other hand, Stan Wawrinka might be the only man remaining with the artillery required to take out Novak Djokovic in a best of five.
Over the years, Stan the Man has proven he can handle the serve of Raonic, winning the four matches they've played against each other. In fact, I tend to fancy Stan against the bigger servers on tour because he's a sneaky good returner. He's extremely nimble at blocking back heavy first serves and creating rally opportunities.
That being said, I don't think that Raonic isn't going to be looking to shy away from longer rallies with the Swiss man. Over the past year or so, Raonic has tuned up his entire game – beyond his first serve alone -- to provide him with a more all around attack, in the same vein as Čilić.
So if points are decided from the baseline, I'm not sure I'm ready to write off Raonic. Stan isn't really the best mover around, and if Raonic can develop a feel for his forehand early in the match, confident shotmaking can put the pressure on Wawrinka.
If Stan doesn't focus 100 percent and prepare himself for a bloodbath tonight, I think there's a really decent chance Raonic comes out and hits him in the mouth. Give me Raonic.
Prediction: Raonic in four (7-6, 7-6, 3-6, 7-5)
Ferrer -180 over Isner
I remember their last match vividly.
It was the quarterfinals of the Paris Masters last November in Bercy. I had backed Big John. But after a long hard week (defeating Bedene and Federer), John showed his fatigue. Ferrer was able to handle his serve for most of the match, breaking him twice in the first set, but the second set got interesting.
Big John won the tiebreak, with the help of some massive serving -- and an impeccable call by Robbie Koenig -- only to let me down by getting manhandled in the third set, in which he looked desperately run down.
I thought, going into last match, Isner would have much more success attacking -- or at least defending -- the Ferru serve. After a tough three rounds for John, specifically his last match against Feli, I'm not sure if he's going to be able to raise his game to the level required to beat the Spanish No. 2.
Isman aside, I've been extremely impressed by Ferrer's Australian Open, after a disappointing early start to the season. Frankly, I was expecting to start to see the decline from Ferrer this season, but he's looked good so far, and I fancy him to extend on his success tonight.
Prediction: Ferrer in three (6-4, 7-6, 6-2)