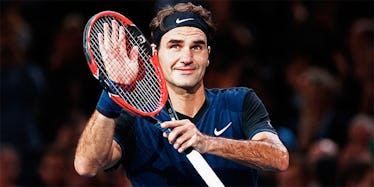 Elite Tennis Preview: Will Djokovic And Federer Be Their Stellar Selves?
Getty Images
ANOTHER WIN FOR MILOSHHHHHHHHHH!!!
COME ON (Federer voice). Milos in five over Wawrinka. What a match, and what a result for the young Canadian (at +150!).
Yesterday we discussed how far Raonic had come in developing a more complete -- well-rounded -- attack, and that's exactly what he put on display last night; on the biggest of stages.
In years past, for Raonic to pull out a five set win against a top-five player, it would typically mean he'd have to pump out around 50 aces and pray for a little help in a breaker or two -- but not last night; as the young Canadian let off 82 winners and imposed his will in rallies with the Swiss.
After winning the first two sets convincingly, 6-4 6-3, Raonic stumbled and dropped the next two, forcing the decider. But in the fifth, the Canadian dug deep and found an extra gear, breaking through at 3-2 and protecting his serve the rest of the way to win the match 6-4 6-3 5-7 4-6 6-3, in 3:47.
In our other play, Ferru ousted Big John Isner in straights, as tipped, handling the American's booming first serve from the start of the match. In the quarterfinals, the 33-year-old Spaniard will square off against old foe Andy Murray for a spot in the semis.
With yesterday's two wins, we're now at four straight -- and seven of our last nine -- so that means we're enjoying some really decent form heading into week two of our first Grand Slam. This is when sh*t becomes a lot more difficult – both as a player and a capper – so we're going to have to raise our level as well.
So – raise it, we shall.
With a lot of the moneylines for tonight's matches waaay out of reach (around -600 for both favourites), we'll need to get crafty with how we handicap our matches tonight.
Do you come from a land down under? No, not tonight, anyway. This evening, we turn to the overs for some luck -- because we come from the land of plenty. I said, do you speak-a my language? 
Season totals: 25-13 (66%) +12.78 units
Federer/Berdych OVER 36.5 games
Surely, I believe that the Swiss will win this match -- but the question now becomes (for betting purposes), in how many sets? And while the easy answer would probably be straights, I don't see tonight being a cakewalk.
In the three matches they played against each other last year, the Maestro won all six sets without dropping one against the Czech. In Indian Wells, Federer bageled him in the second set. In Rome, on the clay of Pietrangeli, Federer defeated him 6-3 6-3. At the World Tour Final last season in London, 6-4 6-2 in favor of the World No. 3.
But, tonight, I think Tomáš Berdych gets off his set-less schneid against Federer, and win one to push the total games to over 37.5. Because Fed dominates his head-to-heads against Birdman, it's easy to overlook the Czech's success against Roger in Grand Slam tournaments.
In 2012, at the US Open, Berdych defeated Roger 7-6(1) 6-4 3-6 6-3. At Wimbledon, in 2010, Berdych disposed of him 6-4 3-6 6-1 6-4. Although Roger is certainly capable of thwarting Berdych in straights, I think tonight we'll see a longer match -- with Berdych taking at least one set.
Both players have been serving well, aside from Berdych's five set scare against RBA, and I think that -- even if Berdych doesn't win a set -- we might even have hopes of seeing this over in three sets (and a couple tiebreakers).
Prediction: Federer in four (6-3, 5-7, 6-4, 6-3)
Djokovic/Nishikori OVER 35 games
Again, common sense might presume that Djokovic washes Nishikori tonight, after dropping two sets to Gillou Simon the other night.
But, in the words of Lee Corso, not so fast, my friend. Aside from ending Novak's US Open chances in 2014, Nishikori has actually had some pretty decent success handling the Serbian World No. 1 over the years.
In four matches against Djokovic, Kei has been able to take a set in four of them. And, as I've mentioned in the past, Novak usually saves his best tennis for the final -- and semifinal -- of major tournaments, so I think there's a decent chance Kei can steal one tonight.
At the US Open last year, Djokovic dropped sets to Bautista-Agut and Feliciano Lopez, in consecutive matches, so it wouldn't be unheard of for him to look...human...for two consecutive matches at a Grand Slam.
Aside from a few shaky points in his match against GGL, Nishikori has looked really, really, good this tournament -- especially in his last match, in which he dismantled an in-form Jo-Willy Tsonga. The two have always played tight matches in the past, and I expect that trend to continue tonight.
Prediction: Djokovic in four (6-3, 6-4, 3-6, 6-2)