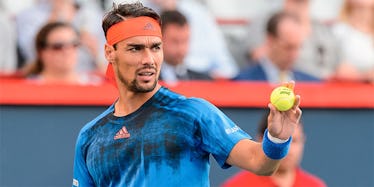 Elite Tennis Preview: Djokovic The Clear Favorite As Australian Open Begins
Getty Images
Well, it's finally here, folks.
The Aussie Open is upon us, and it's about that time to dig into our tennis cards and find the winners among our 64 first round matchups.
As far as outright tournament winners are concerned, there aren't really not too many realistic options outside of Novak Djokovic, far and away the biggest favorite to win in Melbourne.
I suppose there's always the chance that Stan Wawrinka can catch fire down under -- and Murray's draw seems to be a bit of a cake walk to the final -- but, still, it's Novak and the rest of the field at this point.
Other long-shot hopefuls to watch out for are Kevin Anderson and local hero Nick Kyrgios. Guess you can't really rule out Roger, either, despite his recent performances in Melbourne.
Personally, I've backed Novak at -130, which -- in the grand scheme of things -- is still a pretty cheap price for a player as dominant as Novak Djokovic. I also put a little skin on Kyrgios, too, just because. He has the talent to win a Grand Slam, if he could only remain a bit more focused.
With outright futures out of the way, it's time to start looking through these first round matchups, set to kick off around 7 pm EST Sunday night -- and continue all night long. Nights like these -- the first night of the Australian Open -- are why you play the game.
Get ready to adjust your sleep schedule -- or just abandon it completely -- for the next two weeks. We're officially #TEAMNOSLEEP until we have a winner in Melbourne.
Thiem -150 over Mayer
The odds for this match have been soaring over the past two days. Dominic Thiem opened as a -150 favorite -- and now the line is at around -175 in favor of the Austrian (which marks a positive sign for us).
Back Thiem to end Leonardo Mayer's Aussie run before it can even start. Holding a 2-1 head-to-head against the Argentine, Thiem has proven that he can break down Mayer's serve. I get the feeling that Thiem will expand on his breakout season last year, in 2016, and -- although the line has been moving up -- it's still very reasonable at -175.
Prediction: Thiem in four (6-2, 4-6, 7-5, 6-3)
Donskoy -165 over Cervantes
Evgeny Donskoy is one of the more overlooked players on tour. While his game isn't very glamorous, he proved toward the back end of last season that he's capable of producing results with his heavy strokes from the baseline.
I look back to last season in Moscow, where he defeated Borna Ćorić, Ričardas Berankis and Teimu Gabashvili in three consecutive days.
I think the Russian will be able to power through his first round matchup against Íñigo Cervantes tonight. Cervantes is a clay courter and doesn't spend a lot of his own time playing hard court tournaments. As a result, I don't think he'll spend a lot of time in Melbourne, either. Donskoy in three or four.
Prediction: Donskoy in three (6-3, 6-2, 6-3)
Becker +115 over Sela
This match pits big server Benjamin Becker against the Israeli No. 1 Dudi Sela. The two actually have a decent bit of history between each other, meeting five times over the years, with each player winning two matches.
Tomorrow night, I fancy the German over Sela -- in a match where layers consider him to be the underdog.
Here's the deal -- Becker isn't the greatest mover; if Sela can dictate points, he'll probably win the match. Now, on the other hand, if Becker can get into a service rhythm and feel confident trying for winners within rallies -- I think he'll take it in straights.
Becker has been a class player throughout his career. Last season in Kuala Lumpur, he proved that might still have a little left in his tank -- defeating Chardy and Dimitrov before surrendering to David Ferrer in three sets. Back Becker to prove he has a little more left in his tank in Melbourne.
Prediction: Becker in four (7-6, 6-4, 2-6, 7-5)
Fognini +120 over Müller
Gilles Müller looked kinda eh, in my opinion, during his semifinal match against Grigor Dimitrov in Sydney. His first serve was returnable, and he made a lot of errors with his forehand, usually his two biggest weapons.
Fabio Fognini, on the other hand, played confident tennis during his entire run in Auckland -- including his tight two-set defeat against Jo-Willy Tsonga, 5-7, 6-7(4). Given how streaky Fognini is, I think he'll be able to use the positive start to his season to motivate him in Melbourne.
With no prior head-to-head between the two players, I give the edge to the mercurial Italian Fabio Fognini. I think his hard-court game has come a long way since last US Open -- and if Müller comes out looking flat -- Fogna should be able to make him pay.
Prediction: Fognini in four (2-6, 7-6, 6-4, 6-3)
Groth +150 over Mannarino
For whatever reason, layers love to show respect to the French World No. 44, Adrian Mannarino. Against Sam Groth, however, there is a little more rationale behind the favorable line.
Believe it or not, the big serving Australian has not won a set since the US Open. Still, I fancy him to turn things around in his homeland of Australia in front of a crowd full of fans pulling for him.
Mannarino couldn't get much off of Mahut's serve, so if Groth can find some type of service rhythm he should be able to hold pretty worry-free.
Prediction: Groth in five (7-6, 3-6, 6-4, 3-6, 7-6)
Young -180 over Giraldo
Santiago Girlado is a pretty strange case. He used to be a pretty confident player in years back, but 2014 and 2015 marked generally disappointing seasons for the Colombian -- who clearly plays his best tennis on clay courts.
I'm repping that YIMLIFE aka Donald Young to show his class tomorrow night. He's the better player -- on a court he feels more comfortable on -- and I expect him to beat Giraldo pretty handedly and advance to the second round.
Prediction: Young in three (6-4, 7-5, 6-3)