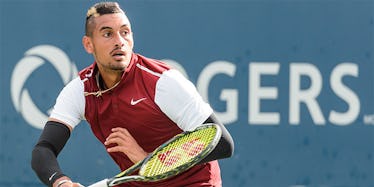 Elite Tennis Preview: Australian Nick Kyrgios Up To Tonight's Challenge
Getty Images
Aghhh, RAJEEV.
F*ck, man. Had "Rampras" done just a little bit more in those fourth and fifth sets last night, we'd have had ourselves a perfect three for three night to wake up to.
Sadly for us, that wasn't in the cards -- and the American couldn't pull it out against the 35-year-old Stéphane Robert (who legitimately might be the worst player ever to win two rounds at a Grand Slam tournament).
I mean, I'm still not really over it, but whatever, shake that sh*t off. As Meat Loaf once said, so very eloquently, "Don't be sad, cos two outta three ain't bad."
We move onward.
And we still got some momentum on our side, too. After the whole Ram debacle, both of our other plays produced straight sets winners, with Kuznetsov cruising past Chardy (at +140) and American hero (ahhaha) Stevie Johnson rolling the Brazilian Bellucci.
So that means we're coming into tonight's matches with some decent form of our own. And I'm glad we are; tonight is when sh*t really starts to heat up. Round of 32, folks, and there is a couple of star-studded matchups to try and make sense of on the docket for us.
I'm ready, let's get to it.
Season totals: 20-12 (63%) +7.72 units
Kyrgios +140 over Berdych
Young Aussie Nick Kyrgios is probably my favorite player on tour. From his wild antics to his punishing forehand, he's simply a fun player to watch -- and I love his swagger.
Tonight he faces a huge test in the World No. 6 Tomáš Berdych -- who he recently competed against this past winter, in the International Premier Tennis League (and beat 6-2). At the very least, it should be an extremely entertaining clash.
Here's the deal. Berdych is one of the most meticulous players in the world. If he's able to dominate points and play his game, he'll win the match -- simply put. But against a guy like Kyrgios -- who's confident enough to go for winners from anywhere on the court -- it's difficult to control much of anything.
Also, Kyrgios is an underrated returner. He beat Karlovic in Kuala Lumpur. He beat Wawrinka in Montréal. He beat Raonic at Wimbledon. If he can put pressure on Berdych's service games -- even in short spurts -- and steal a break, he should be able to win the set off the strength of his own serve.
That's the thing with Kyrgios. When he's 100 percent "there" mentally, he's extremely tough to beat from a physical perspective. He's got a dominant first serve (when clicking), he can return first serves, and he can pulverise ground strokes and rally with anyone.
In my mind, the only one who can truly beat Kyrgios is Kyrgios, himself -- and he's proved this, to an extent, by beating the likes of Nadal and Federer before turning 21. At +140 odds, he's as lively of an underdog as anyone playing tonight.
Aussie oy oy oy.
Prediction: Kyrgios in five (6-3, 4-6, 5-7, 7-6, 6-4)
Goffin +158 over Thiem
Tough match, this.
Dominic Thiem has definitely picked up where he left off last season, extending on his ascension up the rankings, but tonight presents a far bigger challenge: a best of five match against Belgian No. 1 David Goffin.
While Goffin dominated the head-to-head early in their careers – defeating Thiem in their first three matches -- the Austrian has gained some steam of late, winning their last two bouts. Their last match came in the Gstaad final in Austria -- where Thiem was playing the best tennis of his career -- but, tonight, in a neutral site, it be will a whole different animal.
The way I see it, Goffin will be able to chip away at Thiem, baiting him into beating himself -- playing tight and making unforced errors. I've ridden along with Thiem through his first two matches, and while he's certainly been impressive, he's also shown signs of weakness.
In his first match against Leo Mayer, Thiem allowed the Argentine to get back into things by making unforced errors deeper into the match. He's a free swinger, Thiem; if his focus isn't 100 percent his errors can rack up. While Mayer wasn't able to particularly capitalize on the young Austrian's lax play, the Belgian likely will.
Goffin, on the other hand, will not make the mental mistakes that Thiem is more susceptible to. Although Goffin really hasn't looked superb all tournament -- and even stretching all the way back to his Davis Cup scare against Kyle Edmund -- I expect a statement win from the Belgian in Melbourne, tonight.
Back Goffin to get off to a quick start and take Thiem out of the match early.
Prediction: Goffin in four (7-6, 6-3, 2-6, 6-4)