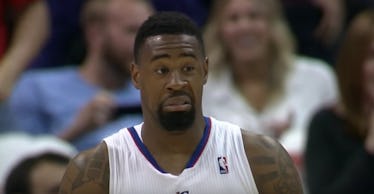 Team USA Basketball Players Got Caught Visiting A Brothel At The Rio Olympics
YouTube/NBA
Anyone who follows Team USA basketball knows the squad has been having a whole lot of fun lately. But, one of Team USA's latest trips was almost a bit too fun while the team was in Brazil for the Rio Olympics.
Three of the men's team players, NBA stars DeAndre Jordan, DeMar DeRozan and DeMarcus Cousins, were photographed visiting a brothel in Rio de Janeiro.
The scoop comes from -- who else -- TMZ Sports.
TMZ said another trio of players could have been with the three at the brothel, but the report also brings good news, particularly for any of the players who wanted to avoid media scrutiny: The visit was a complete mistake.
A source close to the players told TMZ,
They realized it wasn't the right place for them and immediately left.
The players apparently thought they were simply headed to a spa and were surprised to find it was, you know, something else.
TMZ also said the players didn't do much inside the brothel besides ordering drinks. No harm, no foul.
Citations: TEAM USA BASKETBALL Players in Rio 'Brothel' ... OOPS, WE THOUGHT IT WAS A SPA (TMZ)