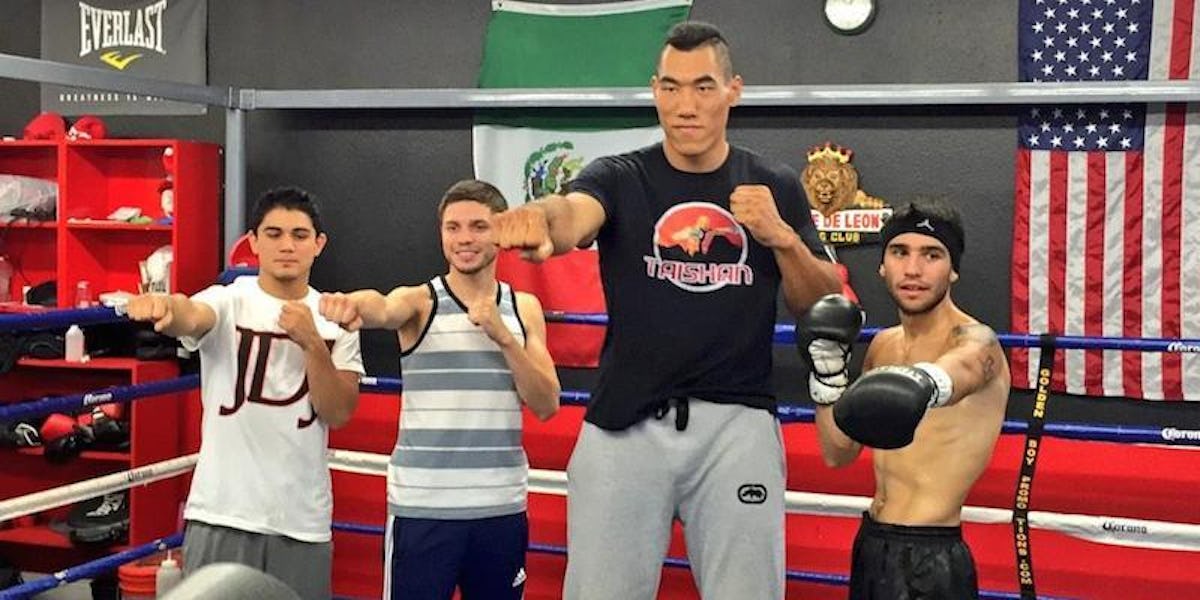 This 7-Foot-Tall Man From China Wants To Be 'The Yao Ming Of Boxing'
Twitter
Meet Taishan Dong, an aspiring boxing champ.
Taishan hails from China, where he was a kickboxer before he left for America to become a boxer and, as he once said himself, become the Yao Ming of boxing.
Taishan stands at 7 feet tall.
And he sports an 84-inch reach.
He's basically a giant and enters the ring like one, too.
Taishan only picked up boxing last year and made his competitive debut in July. He has since picked up two knockout victories, with the second coming in November.
He is trained by former boxer and veteran trainer Buddy McGirt, who has built Taishan's game from the ground up, and represented by Oscar De La Hoya's Golden Boy Promotions.
Speaking about Taishan, De La Hoya told ESPN,
What impresses us most about Taishan is the incredible speed and agility he brings for someone of his size. In the brief time Taishan has fought in the US, he has quickly acquired an impressive fan base, and we only expect that to grow as the public gets to see more of 'The Great Wall' in action.
Did you know 7-foot sensation @TaishanBoxer is also a kick-boxer? He fights Thursday @FantasySprings on @FOXDeportes pic.twitter.com/KhSjuu4CCo — GoldenBoyPromotions (@GoldenBoyBoxing) November 10, 2014
Although he is new to the sport, he says it hasn't been difficult to pick up boxing. He was quoted by Fox Sports, saying,
The transition wasn't really hard, nowadays I have to concentrate on fewer things, since I only have to apply punches and protect the upper part of my body.
Taishan's next fight will be on Friday, February 27 on Fox Sports 1. He'll go for a third successive victory as he looks to become an icon in the states.
He said:
Mr. De La Hoya wanted to open the Chinese market 'cause he believes in me, he knows I can become a champ... I would love to see more Chinese boxers coming to the US to show their talent, to see the best of both countries. Although I miss China, the will of succeeding in the US is stronger. I reckon I still have three years or so to reach my highest level and after that I can go back to my country as a champion, knowing that I made it.
Let the watch begin!